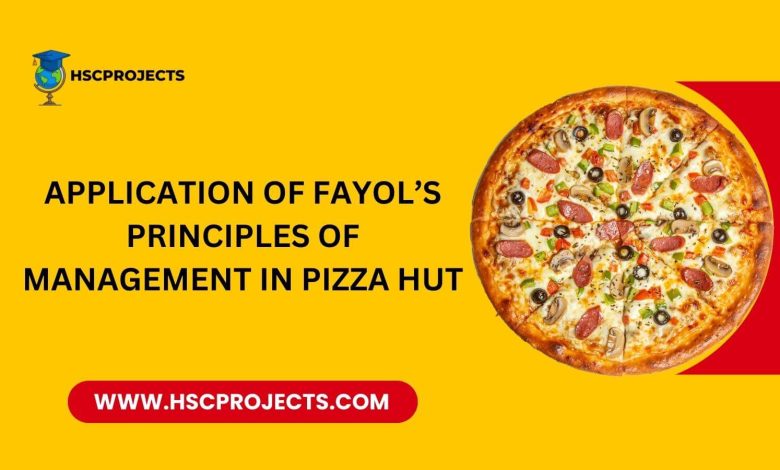 Author: HENRY FAYOL
Lifetime: 1841 to 1925
Birth: Born in France
Fourchanbeer
Profession: Mining Engineer and Management
Education: Graduated from Mining Academy at st. Time in 1880
Position Held: Founded by Mining company
companies de commentary- Founchanbeer Decagille and became its Managing Director in 1888. At that time the company nearly grew into a large steel company with a strong financial position.
Writing: 'Administration Industrielle at gauel'.
It was published in English as General and Industrial Mot. in 1999 and is widely considered a foundational work in classical management theory.
INTRODUCTION
Pizza Hut (Corporately known as Pizza Hut Inc.) is an American Restaurant chain and international franchise that offers different styles of pizza along with side dishes including salad, pasta, buffalo wings, breadsticks, and garlic bread. Pizza Hut is a subsidiary of Yum Brands Inc; the world's largest restaurant company.
As of 2012, there were more than 6000 pizza Hut restaurants in the United States and more than 5134 store locations in 94 countries and territories around the world.
Pizza Hut also has a number of other business concepts that are different from the store type; Pizza Hut Bistro locations road which offers an expanded menu and slightly more upscale options.
SUBORDINATION OF INDIVIDUL INTEREST TO GENERAL INTEREST
The principle "subordination of Individual interest to general interest" is unquestionably followed by the organization named Pizza Hut. Employees are required to follow and implement the same plan, and policies that are laid down by the and apex level of the hierarchy, i.e. the top management. The interests of employees are not given priority over the interest of the organization, which is accountable to a large no. of stake holder-society, customers, owners, etc. All of these are to be dealt with.
DIVISION OF WORK
Pizza Hut certainly practices this principle of Management as its employees are divided into departments that match their capabilities and expertise in order to produce
effectively and efficiently. It is important that people who have an ability or special talent are placed at the correct department in order to maximize that ability or specialization. It has a number of departments :
Human Resource Department
Property Department
Payroll Department
Complaint Department
Marketing Department etc.
UNITY OF DIRECTION
The Principle is Practised in Pizza Hut. Although the overall objective of this organization is to maintain its position as No 1 leader for Pizza, it's specialization in the market, but people under different departments believe in achieving target sales and production, for example, if a task is successfully coming up with an interesting and attractive advertising campaign to widen up its customer base respective department at the top level of management initiates to develop a plan to make it's a success.
UNITY OF COMMAND
The "Unity of command" principle of management is unquestionable, being practiced in Pizza Hut As per the Organisation structure of pizza hut, there is a clear superior figure for every subordinate working there.
For example, for employees of a branch, their superior is the Branch Manager and the Branch Manager, on the other hand, is accountable to the other top-level authorities.
Therefore, it is evident that each subordinate has to take orders from only the superior.
ESPIRIT DE CORPS
This principle is undoubted, being followed in Pizza Hut As per the information provided by the Branch Manager, the person why is it such a huge success today is because of the harmony and unity within the organization itself. Through it has clear lines of authority, it still promotes unity and harmony and unity within the organization.
It is indeed, necessary in any organization because being too rigid, would not bring the best out of the members of an organization.
CENTRALISATION AND DECENTRALISATION
Pizza Hut was a predominantly centralised structure to ensure the control is maintained over their thousands of outlets. The need to ensure consistency of customer experience and quality of each location outlet is the main reason.
It makes it easier for them to implement common policies and practices for the business as a whole and make it easier for Pizza Hut to coordinate and control from the center.
→ It leads to delay in decision-making
→ Strict control at the top management does not allow the Branch Manager to take Initiative.
STABILITY OF PERSONNEL
The organizational structure of Pizza Hut, being controlled, does not give flexibility to employees regarding initiative Moreover, most of the employees work in this organization a part-time, and their job agreements are on ad-hoc basis only. There are only a handful of employees who work full-time.
Although employees are given a reasonable time to show results, yet they love to face frequent transfer in other hand branches, which consequently has an adverse effect.
DISCIPLINE
Pizza Hut, unquestionably, applies their principles of management because the "leader" reputation of Pizza Hut and the variety of meals it provides are enough to prove it. A fast-food outlet can not achieves the position in the hearts of people, which Pizza hut has.
So, good discipline is quite essential in any organization. The interview with the Manager of Pizza Hut and the survey of conducted for the employees, helped me realize that there is a clear and fair agreements.
REMUNERATION
The interview conducted with the Branch Manager of Pizza Hut helped me realize that the principle of 'Remuneration' of employees is prevailing there. According to him, the salaries that they provided to their employees are adequate about the task jobs they perform. It may not give
them a reasonable standard of living but a fair, justifiable, and reasonable. This is because most Pizza Huts employees work part-time here and are paid accordingly.
SCALAR CHAIN
The principle of "scalar chain" propounded by Fayol is not followed in Pizza Hut…
Within each branch, there is one and only one superior/ boss – The Branch Manager, to whom all the employees of the respective branch are accountable. He is only superior to be consulted and to seek advice from. Thus, the chain of superior and sub-ordinates become invalid in this case. Be it an emergency or a usual massage, the General manger is to to told about the same.
INITIATIVE
Intitiative" principle of Management is partially applied in Pizza Hut as all the employees of this organisation are departmentalised according to there expertise with a clean superior figure to report to and seek advice from. But employees do not passes flexibility to come up with new and innovative ideas, for example, for advertisement puposes because it in centralised etc
Before a certain decision is actually made on the execution of the ideas, the central authority is permission is essential.
OBSERVATION
According to the survey of conducted for the employees of Pizza Hut, I came to know about various aspects from an employee is point of view.
Foremostly, the level of satisfication of employees is ranging from satisfied of highly satisfied.
| | |
| --- | --- |
| Level of satisfication | No. of employees |
| Highly satisfied | 3 |
| Satisfied | 2 |
| Dissatisfied | 0 |
Secondly, I enjoyed about the hours for which the employees are compelled to work. It varies because mostly , they are part times.
| | |
| --- | --- |
| Hows of work | No. of employee |
| 8 Hours | 1 |
| More than 8 Hours | 1 |
| less than 8 Hours | 3 |
Thirdly , I asked about them the number of shift they work for so as to know the division of work and administrative effectively.
| | |
| --- | --- |
| No. of shifts | No. of employees |
| One shift | 3 |
| Two shift | 2 |
| More than 2 shifts | 0 |
Afterwards, I enquired about the flexibility they have been provided with regarding the transfer of job to some other employee, in case of any problem or inconvenience so as know the application of
Fayoli unity of direction & Espirst De Corps principles
| | |
| --- | --- |
| OPTIONS | No. of employees. |
| YES | 5 |
| NO | 0 |
CONCLUSION
According to the survey I conducted for the employees and the customers of Pizza Hut, and the interview with the Manager, the 14 principles prodounded by Henry Fayol regarding Management are mostly applicable in Pizza Hut.
According to me Pizza Hut should become more stringent towards the application of these principles in its general administriation because it has been relightly said – Mangement is the lif giving element of every business, without it, the resources of production remain resources and shall never become production .
In order to download the PDF, You must follow on Zomato. Once done, Click on Submit
Follow On Zomato
Subscribed? Click on Confirm
Download APPLICATION OF FAYOL'S PRINCIPLES OF MANAGEMENT IN PIZZA HUT PDF