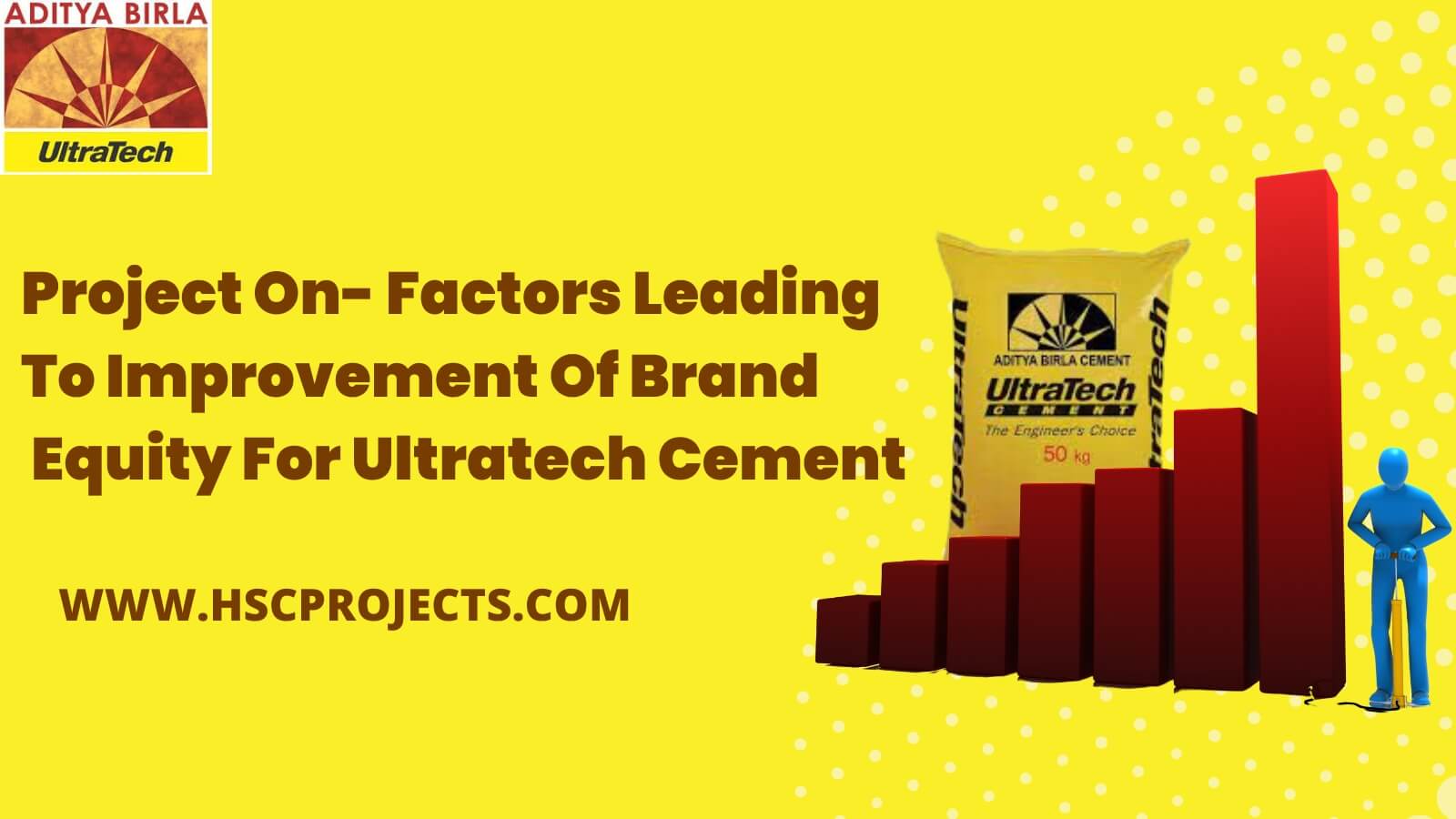 Project On- Factors Leading To Improvement Of Brand Equity For Ultratech Cement
Need Of The Study
The Cement industry is one of the largest and most exciting sectors to be working in today. It is a rapidly changing environment where many advances have taken place over the past 20 years. Furthermore, it will continue to develop and evolve at an ever- increasing pace over the next decade. New technologies and exciting new discoveries have driven this evolution..
This is one of the research done for fulfillment of my study programme of Post graduate diploma in Management.
Objectives Of The Project
The objective can be achieved with respect to the following parameters.
To know brand equity of different brands of cement in Asansol market.
Especially to find out the brand equity of UTCL in Asansol area.
To find out the market share of different brands in cement market of Asansol.
To know the thoughts and behavior of consumers towards UTCL in Asansol Market.
For conducting a comparative study of UTCL with respect to other brands in Asansol.
To understand the retail practices of UTCL in Asansol market.
To find out the dealers and sub dealers perception towards UTCL.
To Know the retailers services towards consumers in Asansol market.
To find out the growth prospective of UTCL including the Behavior of
nonconventional retailers or the potential retailers of cement market in Asansol area.
Scope Of The Study
Though this research has been made for fulfillment of my course structure of
Post graduate diploma in Management, even I can say from this study I
have learnt a lot and the fulfillment of below said matters.
I have learnt a lot about the Cement selling details, about promotion of cement, about distribution of cement, about pricing of cement, about the cement market etc.
The learning can give me a exposure in a cement company or any FMCG or FMCD or any Pharmaceutical company, as a fresher.
This research is fully made on Primary data Collection, it's shows that I can handle pressure & it's a added advantage to grab a good company after completion of my course.
With the help of this research, I can easily conduct any research if after getting a job my company give me any responsibility to conduct a research programme.
Title -Factors leading to improvement of Brand Equity For Ultratech Cement
Author -AVIK KUMAR MUKHERJEE
College -SINHGAD INSTITUTE OF MANAGEMENT & COMPUTER APPLICATION NARHE, AMBEGAON
In order to download the PDF, You must follow on Zomato. Once done, Click on Submit
Follow On Zomato
Subscribed? Click on Confirm
Download Factors Leading To Improvement Of Brand Equity For Ultratech Cement PDF