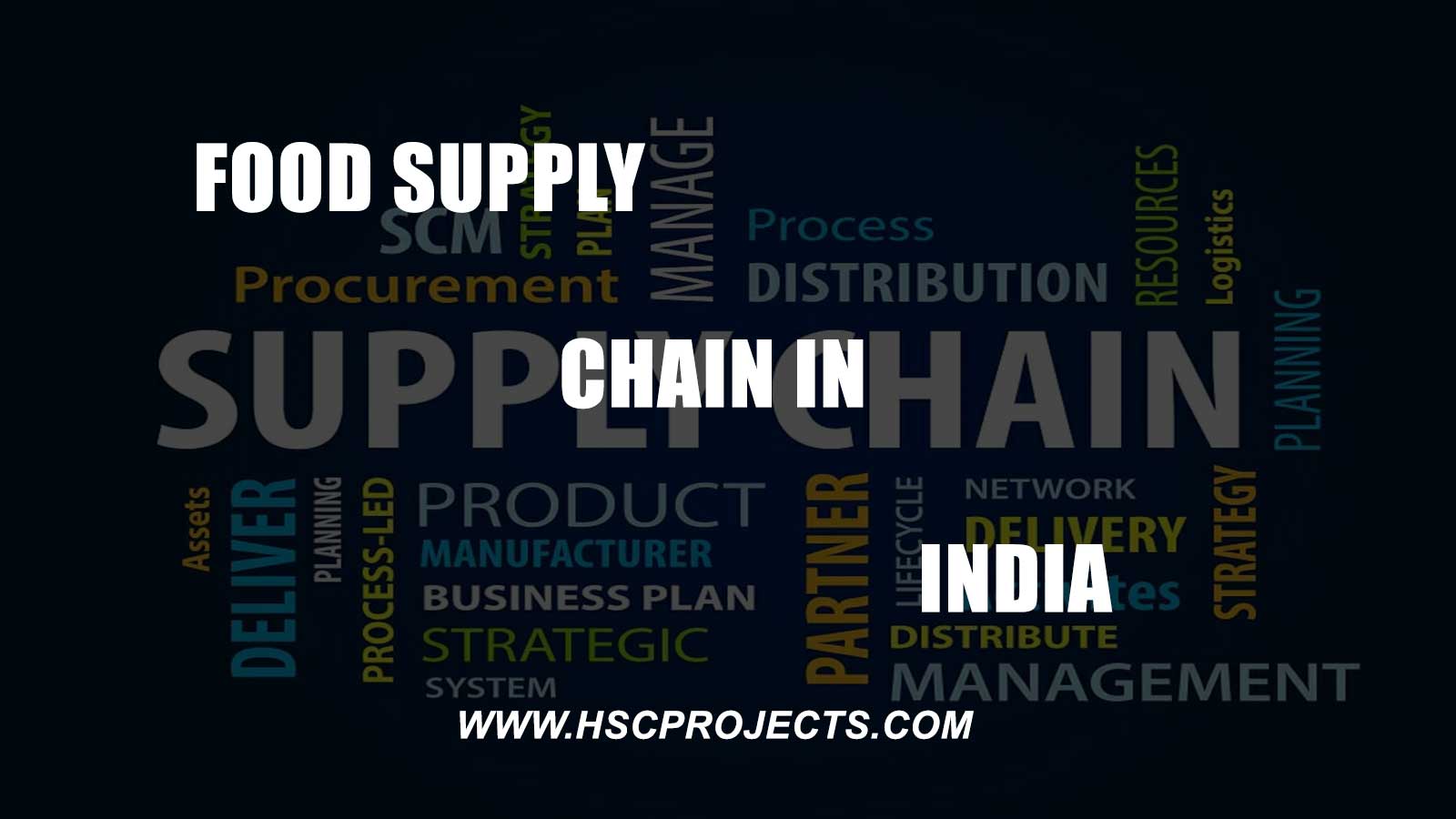 THE FOOD SUPPLY CHAIN OF INDIA
THE ECOSYSTEM REVIEW
THE BASIC ECOSYSTEM
Investment Climate- co- Evolution risk propagation
SES FRAMEWORK CAN HELP US TO STUDY
GOVERNANCE
Innovation
Risk
Performance
SUPPLY CHAIN REDESIGN
HIGH PERFORMANCE SUPPLY CHAIN Efforts of stakeholders for last two decades are highly risk prone
Tesnion between weak and strong ties among chain partners
Globalisation has created long supply chain which are fragile and need monitoring
Governance which involves partners selection coordination and executes takes centre stage.
FOOD SUPPLY CHAINS ARE COMPLEX SYSTEM
Food supply chains are highly complex interacting networks that link millions of small players such as farmers, Kirana shops, hawkers, industries, governments and other organisations affecting the political and economical climate.
We should Recognize
The complexity of social political and operational issues.
The doamin knowledge to be acquired.
The analytics needed to build excellence in strategy and execution and metegate the risks.
The appropriate governance structure needed to fulfill the promised deleveries.
AGRI SERVICE ECOSYSTEM IN INDIA
THE FOOD SUPPLY
A food supply chain consists of [processes and activities that take food from its raw material form (from fark to cark). Food supply chain management is developing as a research discipline, spanning local, regional natural and its international area and it has progressed from a series of shorter independent transactions to more collaborative relationships between producers, processors manufacturers and retailers. Food supply chains are confronted with increased consumer demands for food quality and sustainability. When redesigning their chains the analysis of food quality change and environmental load for new scenarios is as important as the analysis of efficiency and responsiveness requirements
THE PLOUGH PLATE FOOD SUPPLY CHAIN
The supply chain involves formers, seed producers fertilizers, financial institutions, millers, Government, warehouses, fair price shops, retail shops, railways, trucks, transport companies etc.
The plough plate supply chain does not use machines and distirbution takes placce from village to mandi.It is the distirbution centre for farmers.
SUPPLY CHAIN INEFFICIENCIES
106 Million Small farmers
400 Million agri workers
12 Million Kirana shops
1.5 Million Hwakers
Too many intermediares
Manual handling
Improper packaging
Standard for hygiene
Not demand driver:No contract forming
Subsidized pricing
Public Distribution Ineffeciennces
reach to customers is different
FOOD MANUFACTURING
Only a small percentage of fresh produce or meat are processed.
Port harvest research and food product are testing are at a very nascent stage.
Negatives on food manufacturing in India
Food Manufacturing is expensive
High import duties on processing and packaging machinery
High sales tax on packaged products
high protein food not available
Processed food is more expensive than freshly cooked food.
INSTITUTION: REGULATORY & SOCIAL FACTORY
Agriculture produce Marketing Committee (APC) ACI
The APMC ACT in each state of India require all agriculture products to be sold only in Government regulated markets called Mandis.
This market impose substantial taxes on buyers in addiction to commission and fees taken by Government.
Under the present Act. The processing industry cannot buy directly from farmers and the farmer is also restricted from entering into direct contact with any manufacturing
Result: Disintegrated supply chain.
MANDI: FARMERS' MARKET
The APMC, which regulates Mandis, was amended in many states.
Companies still cannot buy only can lease fertile land from the farmer.
They can buy waste land or lease it
Retailers find it difficult to work directly with the farmers and change the Mandi mechanism
The Mandis remains more price-competitive.retailes source from mandis instead of developing their own supply chains
Supply chain is as efficient as that
GOVERNMENT INTERVENTION POLICIES
The minimum support price offered by the government for 24 crops acts as insurance for farmers against price fluctuation and provides inputs to the POS.
The essential commodities act empower the govy to control productio,distribution and pricing etc to secure equitable distribution and fair pricing etc to secure equitable.this restricts interesting movement of goods
These regualtions may have cost their utility and are hampering the growyh and moderation of organised retail.
SUPPLY AND DEMAND IN RETAIL SUPPLY CHAIN
Diagram
RESOURCES AND MANAGEMENT THE INDIAN ADVANTAGE
In India 52% of land is cultivated and world average iss 71%
All 15 major cimates of the world are in Indua9snow hot Himalayas to hot humid southern peninsula)
India has 20 agro climate regions and 46 of 60 in soil types
Sunshine hours and day length ideally suitable for year round crop cultivation.
Mega centre for biodiversity in plants,animals,insects micro-organism and accounts for 17% animal,12% plants and 10% fish genetic resources of the globe.
Live stock sector:india has 16% of cattle 57% of buffalos,17% goats of teh world.
INDIA AGRICULTURE
Agriculture contributes 14.7% to GDP,43B exports and employs more than 50.0% of countries work force.
india has more than 106M small farm holdings
Seond highest fruit and vegetable producer iin the world and cold storage available only for 10%
Seconf highest producer of milk additional cold storage needed
Fifth largest producer of eggs cold chains are more
Sixth largest producer of fish
SEED- FEEF: VALUE DRIVEN AGRICULTURE
CURRENT SCENARIO,SUPPLY DRIVEN
The farmer is unwawre of the market,crops sometthing and tries ro sell in a mandi or to an agent and expects a fair price and immediate payment.
DESIRABLE SCENARIO
The farmer crops to market demands the right grade of produce and sells to right customer to get maximum income.
NEED TO TRANSFORM
The way agriculture works,create business orientations among the farming commiunity
STANDARDS
A standardisation is a powerful tool for improving supply chain efficiency. Standards enable partners to enable better compatibility and interoperability of their systems and processes.
There are two kinds of standards in the food supply chain
The food standard that concerns the manufactruing processes,contest and packaging etc for daily,poultry,rady eat foods.
The logistics and IT systems standardtisation concerns the crtoon,pallets and IT system software so that seamless transfer of good and information is possible.
DELIVERY SERVICE INFRASTRUCTURE
COLD CHAIN

Cold Chain provides facilities for storage for perishables from origin to point of consumption in order to pressure quality and ensure longer life.
Cold chain infrastructure includes
Pre-cooling facilities,cold storage,refrigerates carriers
Multi-Model transportation
Information management system,WMRS,RFID
These are in short supply in India
DISTRIBUTION LOGISTICS IN INDIA
Fragmented,Individual company based,technology sophistication,not integrated into the supply chain.
Current attempts are to build hard infrastructure and no attempt to soft infrastructure such as tradefacilation,ERP,WMS sensor Networks.
Losses due to helf,spoilage,goods damage due to manual handling,long lead time and resultant supply chain ineffeciencies
India ranks 46 on the 2012 Logistic Performance Index.
CHALLENGES FACING THE RETAIL SECTOR
Unavailability of logistics companies offering back end support for retailers
Refrigerated transport and warehouse facilities.
Timely distribution of supplies to retail outlets
The lack of efficient and organised supply chain management leading to higher costs and complexity of sourcing and planning for retailers and hence to consumers
Unavailability of sufficiently skilled and trained manpower leads to trial and error management in retail operations.
USE EXISTING FACILITIES MORE FRUITFULLY
Take advantage of the vast network and logical capabilities of the existing institutions such as post offices, road transport corporations, banks etc to bring a host of services to rural populations. Do not wait for the infrastructure to be available.
FOOD SAFETY AND HYGIENE
Need to assure consumers about safety and quality of food.
the sanitary and phytosanitary(SPs) agreement under wto has lead to increasing recognition and adoption of food safety measure
Compliance with intternational food standards is a perquisite t o gaina higher share of world trade
Concerns on food,safety on the back of breakout of diseases such as BSE,Avian influenza,Bird Flu,etc.
Grwoing consumer demands for products whih are healthy.
STATE OF FOOD SUPPLY CHAIN IN INDIA
Very Inefficient
Needs good Governance
Need food processing Industry
Needs cold chains logistics
Need Immediate actions
CONCLUSION
The supply chain involves farmers seeds, producers, fertilizers factories, financial institutions millers, government, warehouses, fair price shops, retail shops, railways, truck transport companies etc. It is a paradox that it has pros as well as cons too. Its positive side is the stored food in excess can be used during severe conditions like famine etc. Also, it could be given to poor strata of the society in low prices which they can afford called issue price which is usually less than the market.\
BIBLIOGRAPHY
INTERNET
www.cbseguide.com
www.foodssupply.com
MAGAZINE
Economic Agriculture

In order to download the PDF, You must follow on Zomato. Once done, Click on Submit
Follow On Zomato
Subscribed? Click on Confirm
Download Food Supply Chain In India Class 12 Project PDF