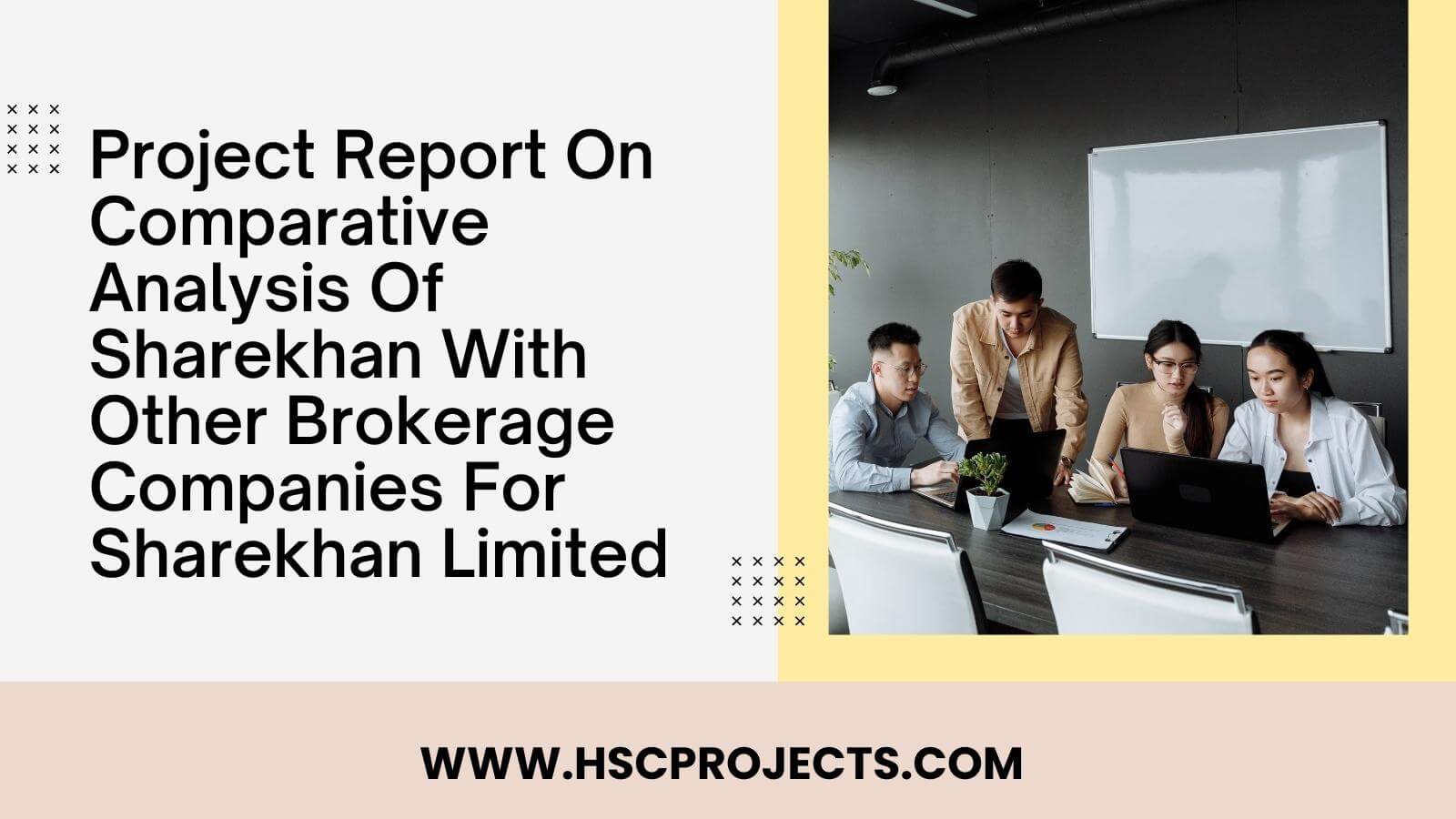 MBA Projects
Finance
Project Report On Comparative Analysis Of Sharekhan With Other Brokerage Companies For Sharekhan Limited
Objective Of This Report
To have knowledge about the share market and have a profound understanding of the products like Demat accounts, portfolio-management services, mutual funds and IPO"s.
To learn some basics of technical analysis.
To study the pattern of research service used by Sharekhan (telephonic and direct survey) to find clients.
To analyze whether the clients of Sharekhan are satisfied with its research service.
The broad objective of the project is to make clients and let them know about the different services offered by Sharekhan. Also to convince them about how Sharekhan services outscore their rivals and how they will benefit from the services provided by Sharekhan.
Stock Exchange In India
A stock market is a public market for the trading of company stock and derivatives at an agreed price; these are securities listed on a stock exchange as well as those only traded privately.
A stock exchange (formerly a securities exchange) is a corporation or mutual organization which provides "trading" facilities for stock brokers and traders, to trade stocks and other securities. Stock exchanges also provide facilities for the issue and redemption of securities as well as other financial instruments and capital events including the payment of income and dividends. The securities traded on a stock exchange include shares issued by companies, unit trusts, derivatives, pooled investments and bonds.
Bombay Stock Exchange
National Stock Exchange
Regional Stock Exchange
Bombay Stock Exchange
The Bombay Stock Exchange is the oldest exchange in Asia. It traces its history to the 1850s when four Gujarati and one Parsi stockbroker gathered under banyan trees in front of Mumbai's Town Hall. The group eventually moved to Dalal Street in 1874 and in 1875 became an official organization known as 'The Native Share & Stock Brokers Association'.
In 1956, the BSE became the first stock exchange to be recognized by the Indian government under the Securities Contracts Regulation Act. The Bombay Stock Exchange developed the BSE SENSEX in 1986, giving the BSE a means to measure the overall performance of the exchange. In 2000 the BSE used this index to open its derivatives market, trading SENSEX futures contracts.
Methodology
The methodology is a system of broad principles or rules from which specific methods or procedures may be derived to interpret or solve different problems within the scope of a particular discipline.
A methodology for a project is a combination of step-by-step methods and techniques for the successful planning and delivery of projects. It is a scientifically proven disciplined approach to project planning, development and implementation. It controls the entire project management process to assure the success of current technologies and business goals.
We can collect data for the project in two ways:-
a) Primary source
b) Secondary source
I have used both methods to make this project. For primary data, firstly questionnaire was made and filled out by customers, and then an analysis of this feedback has been done. Further, we made telephone calls to the customers in order to know their preferences. Secondary data has been collected from the internet, magazines, journals, books, etc.
Title -Project Report On Comparative Analysis Of Sharekhan With Other Brokerage Companies For Sharekhan Limited
Author – Deepak Kumar Singh
College – New Delhi Institution Of Management
In order to download the PDF, You must follow on Zomato. Once done, Click on Submit
Download Project Report On Comparative Analysis Of Sharekhan With Other Brokerage Companies For Sharekhan Limited PDF