Introduction
The travel industry has undergone a significant transformation with the advent of digital technology. Gone are the days when planning a trip meant visiting multiple travel agencies and sifting through brochures. Welcome to the era of online travel services, where everything from destination selection to ticket booking is just a click away. This article delves into the intricacies of the Online Travel Agency Project, a web-based platform that is setting new benchmarks in the travel sector.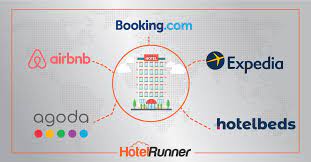 Key Features
The Online Travel Agency Project offers a plethora of features designed to make travel planning a breeze:
Database-Driven: The backbone of the project is its robust database, filled with information on various travel mediums like buses, trains, and airplanes.
User-Friendly Interface: The system provides an intuitive interface where users can explore various travel destinations and make informed choices.
Multiple Travel Options: Users can choose from a variety of travel mediums, each with its own set of timings and availability.
Ticket Booking: The platform allows users to book tickets for their chosen travel medium, offering a seamless booking experience.
Mobile Receipts: An optional feature where booking confirmations are sent directly to the user's mobile phone.
Advantages
Convenience: Users can book their trips online, eliminating the need to visit a physical travel agency.
Time and Cost-Efficient: The platform saves both time and money by offering a streamlined booking process.
Customization: Users can tailor their travel plans according to their preferences.
Automation: The system automates various processes like booking, payment, and customization, making it highly efficient.
Disadvantages
Internet Reliability: A stable internet connection is required for smooth operation.
Database Requirements: The system needs a large and reliable database to function effectively.
Conclusion
The Online Travel Agency Project is a groundbreaking initiative that promises to redefine the way we think about travel. With its user-friendly interface, extensive database, and automation features, this web-based platform is poised to become the go-to solution for modern-day travelers.
Sample Code
<?php
// Database Connection
$servername = "localhost";
$username = "root";
$password = "";
$dbname = "travelAgency";

$conn = new mysqli($servername, $username, $password, $dbname);

if ($conn->connect_error) {
    die("Connection failed: " . $conn->connect_error);
}

// Search for available travel options
if ($_SERVER["REQUEST_METHOD"] == "POST") {
    $destination = $_POST["destination"];
    $sql = "SELECT * FROM travelOptions WHERE destination = '$destination'";
    $result = $conn->query($sql);

    if ($result->num_rows > 0) {
        while ($row = $result->fetch_assoc()) {
            echo "Travel Medium: " . $row["medium"]. " - Timing: " . $row["timing"]. " - Availability: " . $row["availability"]. "<br>";
        }
    } else {
        echo "No travel options available";
    }
}

// Book Tickets (Assuming user selects an option)
if ($_SERVER["REQUEST_METHOD"] == "POST") {
    $selectedOption = $_POST["selectedOption"];
    $sql = "UPDATE travelOptions SET availability = availability - 1 WHERE id = '$selectedOption

In order to download the PDF, You must follow on Zomato. Once done, Click on Submit
Follow On Zomato
Subscribed? Click on Confirm
Download Online Travel Booking Agency Project PDF