Introduction
Lathe machines have long been the cornerstone of manufacturing, offering versatility in operations such as cutting, sanding, and drilling. This article delves into the design and fabrication of mini lathe machines, a compact yet robust version of traditional lathes, ideally suited for small-scale applications and workshops.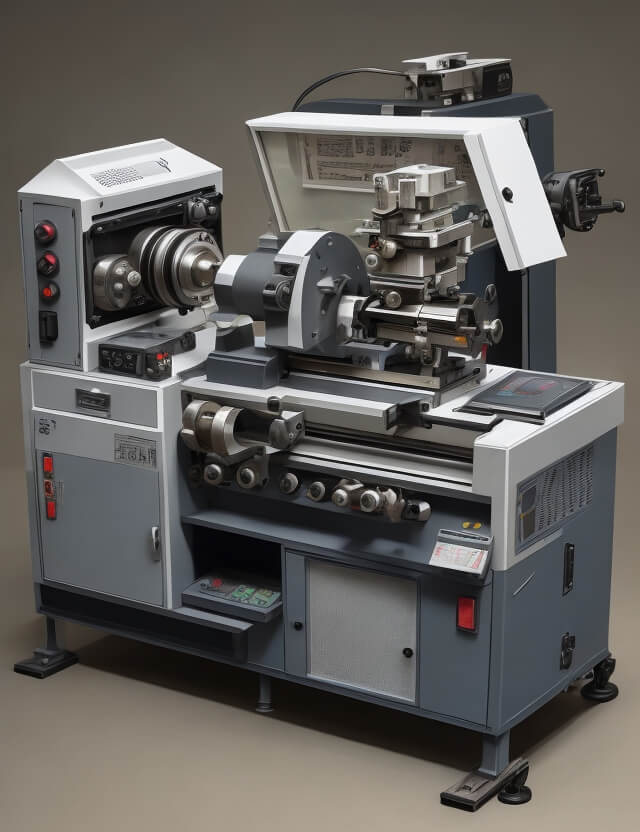 Design Elements
The mini lathe machine is an engineering marvel that integrates several elements into a compact frame measuring just 15 x 40 x 10 centimeters.
Key Components
DC Motor: Powers the spindle
Belt and Pulley: Transfers energy from motor to spindle
Shaft and Chuck: Holds the workpiece securely
Sliding Frame and Tool Holder: Allows for versatile tool positioning
Supporting Frame: Adds structural integrity
Joints and Screws: Ensure component cohesion
Working Mechanism
The machine operates on a simple but effective mechanism. A DC motor drives a belt and pulley system connected to a spindle. This in turn rotates the chuck, which holds the workpiece. The tool holder allows the positioning of various tools, which can move in a sliding mechanism along the frame.
All About Lathe Machine Operations
This mini lathe machine is not just a downsized version of its larger counterparts; it is an agile device capable of multipurpose operations:
Cutting: Precision cutting of wood, metal, and plastic
Sanding: Efficient surface finishing
Drilling: Accurate hole creation
Advantages of Mini Lathe Machine
Ease of Use: Simplified controls and mechanisms
Space-Efficient: Requires minimal workspace
Portability: Easy to move and set up
Versatility: Suitable for various materials and operations
Conclusion
The design and fabrication of mini lathe machines represent an innovation in mechanical engineering, bringing versatility and convenience to small-scale manufacturing and hobbyist applications. With benefits ranging from easy use to portability, these machines are set to redefine what we know about lathe operations.
In order to download the PDF, You must follow on Zomato. Once done, Click on Submit
Follow On Zomato
Subscribed? Click on Confirm
Download Potential of Mini Lathe Machines: Design, Fabrication, and Applications PDF