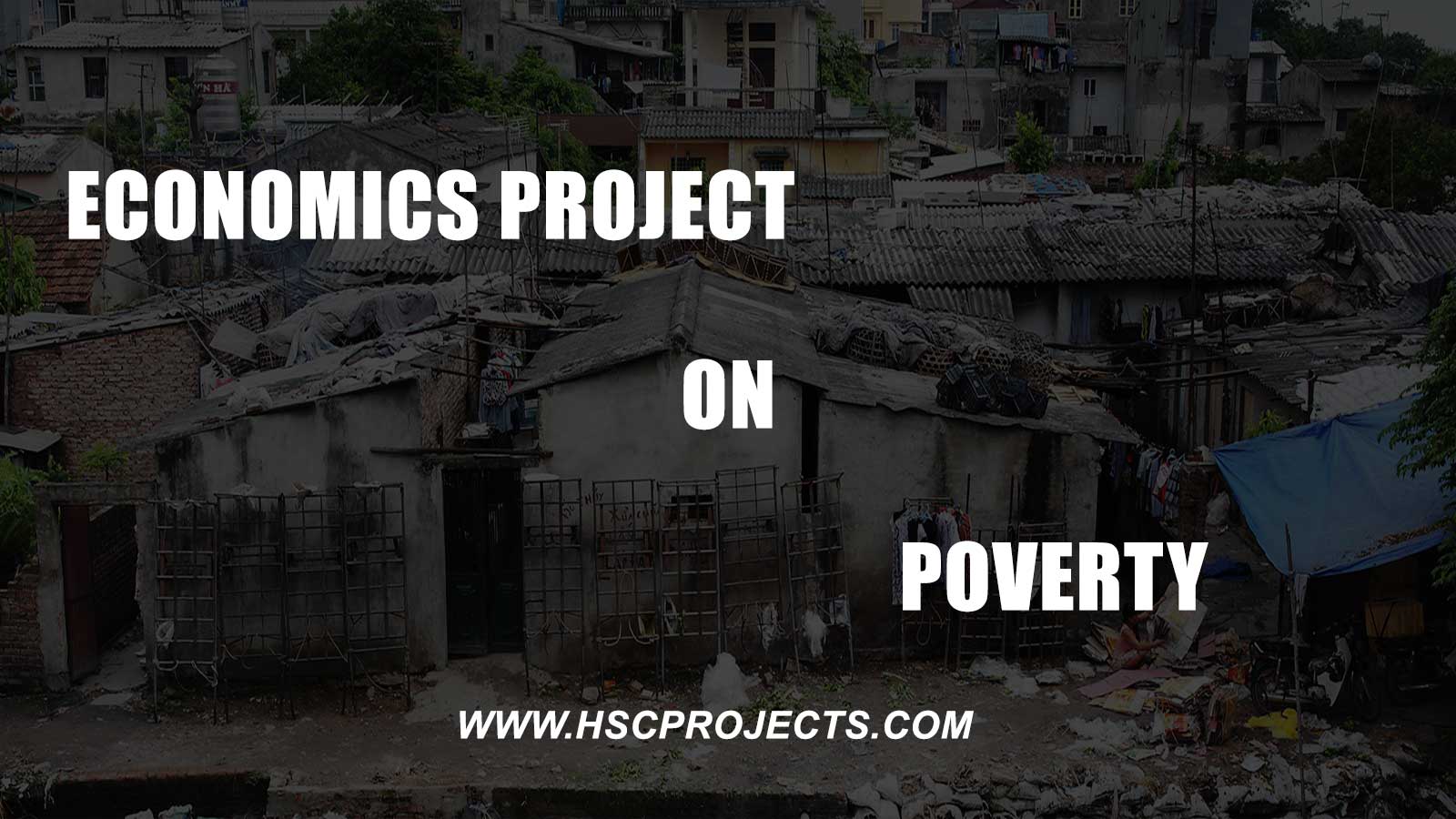 INTRODUCTION OF POVERTY
Poverty is the state of not having enough material possessions or income for a person's basic needs. Poverty may include social, economic, and political elements. Absolute poverty is the complete lack of the means necessary to meet basic personal needs such as food, clothing, and shelter. The floor at which absolute poverty is defined is always about the same, independent of the person's permanent location or era. On the other hand, relative poverty occurs when a person can not meet a minimum level of living standards compared to others in the same time and place. The best way to learn about poverty is a project on poverty in india.
Therefore, the floor at which relative poverty is defined varies from one country to another or from one society to another. Many government and non-governmental organizations try to reduce poverty by providing basic needs to people who are enabled to earn a sufficient once. They initiate project on poverty to be prepared and tackle the major issues of poverty.
These efforts can be hampered by constraints on the government's ability to deliver services such as corruption, tax avoidance, debt, and loan conditionalities and by the brain drain of health care and educational professionals' strategies of increasing income to make basic needs more affordable typically include welfare, economic freedoms & providing financial services. Meanwhile, the poorest citizens of middle-income countries have largely failed to receive an adequate share of their country's increased wealth. There are many projects on poverty initiated all over the globe, some succeed and some fail.
CATEGORISATION OF POVERTY
RELATIVE POVERTY
As the name suggests, it means poverty in comparison to others. It will vary from region to region. Relatively poor are those who can manage the basics but are still not quite into the category of the middle class. The best projects on poverty are done for the benefit of people than focusing on decreasing the poverty line.
ABSOLUTE POVERTY
This refers to people who are living below the poverty line. We measure absolute poverty based on two things
Criteria for minimum calories consumption
Criteria for minimum consumption expenditure
MINIMUM CALORIES CONSUMPTION
When people are not able to get a minimum of 2400 calories per person per day in rural areas and 2100 calories per person per day in urban areas these people are organized as living below poverty.
MINIMUM CONSUMPTION EXPENDITURE CRITERIA
Going by the above explanation, further, we assess the poverty of a family based on their capacity to spend a minimum amount per day as their consumption expenditure. This amount is set by the government for both rural and urban poor & keeps changing annually and biannually depending on the inflation rate and other factors. There are many factors in the project on poverty, some manageable and some not.
VICIOUS CIRCLE OF POVERTY
According to the principle of vicious circle, UDC's level of income remains low which leads to a low level of saving and investment. Low investment leads to low productivity which again leads to low income. According to prof. nurse. "it implies a circular constellation of forces tending to act and react to one another in such a way as to keep a poor country in a state of poverty.
He cited an example of a poor man A poor man does not get enough food which makes him weak. As a result of weakness, his efficiency reduces as a consequence he gets low income and thus becomes poor."
SOLUTION TO THE VICIOUS CIRCLE OF POVERTY
Broadly there are two methods to solve the problem of the vicious circle of poverty solution to the supply-side solution to the demand side let us these two aspects.
POVERTY IN INDIA
More than 800 million people in India are considered poor. Most of them live in the countryside and keep afloat with odd jobs. The lack of employment that provides a livable wage in rural areas is driving many Indians into rapidly growing metropolitan areas such as Bombay, Delhi, Bangalore, or Calcutta.
There most of them expect a life of poverty and despair in the mega slums, made up of millions of corrugated work, without sufficient drinking water supply, without garbage disposal, and in many cases without electricity. Poor hygiene conditions are the cause of diseases such as cholera, typhus, and dysentery, in which especially children suffer and die. The best project on poverty is initiated by Indian government.
Poverty in India impacts children, families, and individuals in a variety of different ways through :
MAJOR REASONS :
High infant mortality
Malnutrition
Child labor
Lack of education
Child marriage
HIV/AIDS
THE HIGH INFANT MORTALITY
1.4 million children die each year in India before their fifth birthday. In addition to Nigeria, Pakistan the Democratic Republic of the Congo, and China, India is one of the countries with the highest child mortality rates. Pneumonia, malaria, and diarrheal diseases as well as chronic malnutrition are the most frequent causes of death.
MALNUTRITION
Not even a bowl of rice a day. India is one of the world's top countries when it comes to malnutrition: more than 200 million people don't have sufficient access to food, including 61 million children, 7.8 million infants were found to have a birth weight of fewer than 2.5 kilograms alarming figures for a country commonly referred to as the emergency market.
CHILD LABOUR
No time to play and learn. Although child labour for children under the age of 14 in India is prohibited by law, according to official figures, 12.5 million children between the ages of 5 and 14 are working. Aid agencies assume that in reality, there are many more estimates that 65 million children between 6 and 14 years do not go to school. Instead, to secure survival it is believed that Indian children contribute to the livelihood of their families.
LACK OF EDUCATION
No opportunities without education. According to UNICEF, about 25 % of children in India have no access to education. The number of children excluded from school is higher among girls than boys. Although women and men are treated equally under Indian law, girls and women, especially in the lower social caste, are considered inferior and are oppressed by their fathers, brothers, and husband. Without education, the chance of finding a living wage from employment in India is virtually hopeless.
CHILD MARRIAGE
The early end of childhood spite banning minors from marrying in 2006, is still widespread in many regions of India. The main leaders in this practice are young girls, who are still children themselves and become mothers too early. Many of them birth living to an investment by the journal 44.5% are still married they are of legal age.
HIV/AIDS
A taboo in Indian society 2.7 million Indians are infected with the HIV about 220,000 of them are children, with the tendency rising. The lack of education and the lack of condoms means that the virus is spreading faster and faster and more and more people are dying AIDS-especially in the Slums of the growing cities more and more children are living there as so-called AIDS orphans, often being infected with the viruses as well.
POVERTY LINE
The poverty line is the level of income to meet the minimum living conditions poverty line is the amount of money needed for a person to meet his basic needs. It is defined as the money value of the goods & services needed to provide basic welfare to an individual. The poverty line differs from one country to another depending upon the idea of poverty.
The poverty line changes from one country to another. In developed countries, where there is an advanced standard of living and welfare concepts, the poverty line is high as basic standards to live to include higher consumption requirements and accessibility to many goods and services in Bangladesh.
POVERTY LINE IN INDIA
Poverty in India is having a well-designed 'poverty measurement' mechanism under the planning commission using the commission as the nodal agency for estimation of poverty.
ESTIMATION OF POVERTY LINE
Calories-based estimation for rural area intake calorie was estimated at 2,400 calories and for the urban area it is 2,100 calories, In 1999-2000 new ways of measuring started i.e. monthly per capita expenditure its estimates for the rural area as consumption worth Rs. 816 per person and for urban areas it is Rs. 1000 presently as per Tendulkar committee.
THREE APPROACHES OF INDIAN GOVT TO COMBAT POVERTY
Approach
Enhancing economic growth
Specific programs for poverty alleviation
Fulfilling the minimum needs of the poor
MAJOR CAUSES OF POVERTY IN INDIA
Rising population
Less production
Less utilization of resources
Shortage of capital & sustainable
Unequal distribution of income
Political factors
Social factors
Unemployment
Short rate of economic development
CAUSE OF POVERTY IN INDIA
Following are the main causes of poverty in India
INCREASED RATE OF RISING POPULATION
In the last 45 years, the population has increased at a whopping rate of 2.2% per annum. An average of approx. 17 million people are added every year to the population which raises the demand for consumption goods considerably.
LESS PRODUCTIVITY IN AGRICULTURE
In agriculture the productivity level is very low due to subdivided and fragmented holdings, lack of capital use of traditional methods of cultivation, illiteracy, etc. the very reason for poverty in the country is this factor only.
LESS UTILIZATION OF RESOURCES
Underemployment and veiled unemployment of human resources and less utilization of resources have resulted in low production in agriculture of living.
A SHORT RATE OF ECONOMIC DEVELOPMENT
In India, the rate of economic development is very low which is required for a good level. Therefore there persists a gap between the level of availability and requirements of goods and services. The net result is poverty.
INCREASING PRICE RISE
Poor is becoming poorer because of continuous and steep price rises. It has benefited a few people In society and the persons in lower-income groups find it difficult to get their minimum needs.
UNEMPLOYMENT
One of the main causes of poverty is the continuous expanding army of unemployed in our country. The job seeker is increasing in number at a higher rate than the expansion in employment opportunities.
SHORTAGE OF CAPITAL AND ABLE ENTREPRENEURSHIP
The much-required capital and sustainable entrepreneurship a very important role in tolerating the growth. But bases are in short supply making it difficult to increase production significantly.
SOCIAL FACTORS
Our country's social setup is very much backward from the rest of the world and not at all beneficial for faster development and has aggravated the problem of poverty.
POLITICAL FACTORS
We all know that the east India company started lopsided development in India and had reduced our economy to a colonial state. They exploited the natural resources to suit their interests and weaken the industrial base of the Indian economy. Hence, the planning was of immense failure to handle the problems of poverty and unemployment.
UNEQUAL DISTRIBUTION OF INCOME
If you simply increase the production are do checking on the population cannot help poverty in our country. We need to understand that inequality in the distribution of income and concentration of wealth should be checked.
NEWS AND STATISTICS
India no longer home to the largest no. of poor: study
Rate of decline
India is moving down in the global poverty Rankings
POVERTY ALLEVIATION METHODS
CONTROL OF POPULATION
To remove poverty controlling the population is important. It increases per capita income. India started family planning in 1951, however, it must be made more aware to the people.
INCREASE IN EMPLOYMENT OPPORTUNITIES
Employment opportunities must be made for people in rural areas. Employment in small-scale and cottage industries must be encouraged.
REDUCE ECONOMIC INEQUALITY
In this way, more job and education opportunities will be provided to the poor and this would help to remove poverty.
LAND REFORMS
As many land reforms policy are introduced by the government they must be implemented properly as they will help the ll farmers to get employment and thereby remove poverty.
SOCIAL SECURITY MEASURES
Like provident fund, pension, free medical and health services, affordable housing, etc should be provided to the rural and urban core. This will improve the living conditions of people.
BALANCED REGIONAL DEVELOPMENT
Government must allocate more funds to the backward and rural regions.
HOW POVERTY FEELS TO CHILDREN
WORRIED ABOUT PARENTS
UNHAPPY
FRUSTRATED
ANXIOUS
EXCLUDED
CONSTRAINED
COMPLICATED
EMBARRASSED
INSECURE
OVERCROWDED
HOMES
NO PLACE FOR HOMEWORK OR PLAY
IMPORTANT
BULLIED & JUDGED
TEACHERS DON'T UNDERSTAND
NO SCHOOL TRIPS
ASPIRATIONS
HOPES
AND
DREAMS
RESILIENCE
FEW
OPPORTUNITIES
WORTHLESS
HOPELESS
SOCIAL INSECURITY
INDIAN GOVERNMENT INITIATIVES FOR POVERTY
Measures adopted by the INDIAN Government to remove poverty.
Food for work programme
Swarnjayanti Gramin Rozagr yojana.
Pradhan mantri gramodoya yojana.
Soompoorna Gramin Rozgar yojana.
Swarn Jayanti shahri Rozgar yojana.
Mahatma Gandhi National Rural Employment Guarantee scheme.
Jawahar gram samridhi yojana.
The program adopted by Indian govt. to help elderly and poor people and also destitute women :
National social assistance
The program includes national old-age pension schemes national family benefit scheme, National maternity benefit scheme.
Annapurna Yojana
On the job training
CURRENT SCENARIO OF POVERTY IN INDIA
The Indian government has taken a project on poverty and how to reduce it effectively taking the poop people into consideration. The release of the IMFS world economic outlook provides an initial country-by-country assessment of what might happen to the world economy in 2020 and 2021. Using the methods described in the world poverty clock we ask what will happen to the number of poor people in the world those living in households with less than $1.90 per person per day in actual or impact forecast.
We take the difference between the IMF's April 2020 forecast for GDP growth and their forecast from October 2019 as "the COVID effect, a slight Simplification because other things have also changed in the world that may have caused the IMF to alter its forecasts however, the largest change is caused by COVID-19 and the policy response around the world.
The summary results are that some million people are likely to be in poor households in 2020, compared to our previous estimates of 640 million people. A careful reader might note that the world poverty clock had been estimating about 600 million in poverty in 2020, but newly updated population estimates new household expenditure data, and new household survey data have also been incorporated into the model.
EFFECT OF COVID-19 ON POVERTY IN INDIA
THE United Nations in a report published last year estimated the number of poor people in India at a humongous 364 million, which is 28 percent of the population. Now the crisis created by the combination of the covid-19 pandemic, national lockdown, and job losses means that many more millions are joining the ranks of the poor. A recent world bank blog on the impact of covid-19 on global poverty has warned about more people being pushed into poverty.
It is estimated that the pandemic will push at least 71 million people globally into poverty and the number can go up to 100 million in a worst-case scenario. The international poverty line is measured as an income of at least $ 1.90 a day- that is, about Rs 150 at the current exchange rate. India's per capita growth rate in real GDP is already low and is likely to worsen.
The countries Nigeria, India and are home to more than a third of the world's poor. India may see a larger increase in the number of poor as a result of covid-19By their very nature, poverty projections carry a lot of uncertainty; but the risk of more joining the ranks of the poor in 2020 is very real. What will happen in 2021 and beyond comes with even more uncertainty as growth in 2021 will depend on how effectively the pandemic is contained and how rapidly economic activity picks up momentum.
CONCLUSION
We have traveled about decades since independence. The objective of all our policies had been stated as promoting rapid and balanced economic development with equality and social justice. Poverty alleviation has always been accepted as one of India's main challenges by the policymakers regardless of which government was in power. The absolute number of poor in the country has gone down and some states have less proportion of poor than even the national average.
Yet critics point out that even though vast resources have been allocated and spent, we are still far from reaching the goal. There is improvement in terms of per capita income and the average standard of living: some progress towards meeting the basic needs has been made. But when compound to the progress made by many other countries our performance has not been impressive.
Moreover, its development has not all sections of the popular some sections of people, some sectors of the economy, some regions of the country can complete even with developed countries in terms of social and economic development yet, many others have not been able to come out of the vicious circle of poverty.
BIBLIOGRAPHY
Teachers
NCERT book
Friends
http://www.soschildrensvillages.ca/news/poverty-in-india-602
http://www.habitatbrowward.org/absolute-vs-relative-poverty/

CERTIFICATE
This is to certify that class Xll-C, of ——, has completed the project on poverty in India under my supervision. He has taken proper care and shown almost sincerity in the completion of this project on poverty in India. I certify that this project on poverty in India is up to my expectations and as per the guidelines issued by CBSE.
Teacher's Signature Examiner's Signature
ACKNOWLEDGEMENT
I would like to express my special thanks of gratitude to my teacher as well as our principal of the school who gave me the golden opportunity to do this wonderful project on poverty of India which also helped me in doing a lot of research and I came to know about so many new things, I am thankful to them. Secondly, I would also like to thank my parent and friends who helped me a lot In finalizing this project within the limited time frame.
DOWNLOAD PDF OF THE PROJECT ON POVERTY IN INDIA
Password: hscprojects.com
In order to download the PDF, You must follow on Zomato. Once done, Click on Submit
Follow On Zomato
Subscribed? Click on Confirm
Download Project on Poverty in India – Economics Class 12 PDF