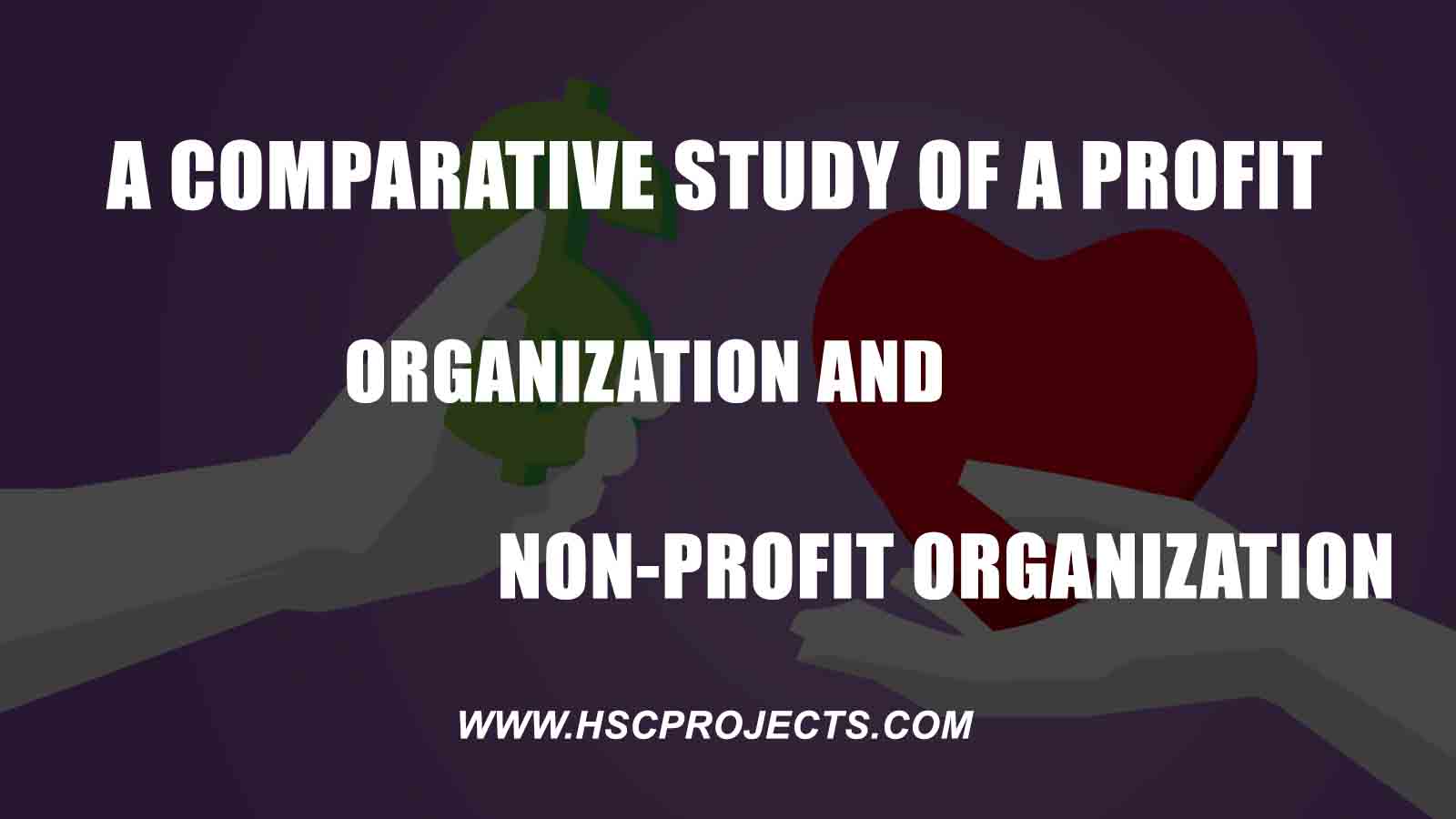 INTRODUCTION:
A social unit of individuals that are structured and managed to satisfy a desire or to pursue collective goals is known as an Organization. All organizations have a management composition that decides associations between the various ventures and also the associates, subdivides, and assigns roles, responsibilities, and control to hold out different tasks. Organizations are open systems–they affect and are suffering from their surroundings. We will have A Comparative Study of A Profit Organization and Non-Profit Organization.
There are different organizations, but mainly there is a comparative study of a profit organization and non-profit organization.
A profit organization is a corporation that aims to earn profit through its operations and is bothered with its interests, in contrast to those of the general public organization.
A non-profit organization is a non-profit-making institution that is allocated to furthering a specific social cause. In economic terms, it's a company that uses its surplus of the revenues to additionally accomplish its final objective, instead of distributing its financial gain to the organization's shareholders, leaders, or members.
AIMS AND OBJECTIVES:
The aim of this project is the comparative study of a profit organization and non-profit organization.
There are many objectives for this project. Major few objectives are given below.
Objectives:
To understand what is an organization
To know the difference between for-profit and non-profit organization
To understand the unique features of for-profit and non-profit organization
To know the challenges faced by non-profit organizations
To ascertain any doubts regarding the comparative study of for-profit and non-profit organizations.
METHOD AND METHODOLOGY:
The method used to gather the required information on the project is an internet survey method. The Internet has extensive information on this subject. It has a vast collection of data on a comparative study of profit and non-profit organizations. The survey has unveiled information about this topic, which has covered major few points which are listed below and explained in a detailed report of the project.
The meaning of Profit organization
The meaning of Non-profit organization
The unique features of a Profit organization
The unique features of Non-profit organization
The key difference between the Profit and Non-profit organization
DETAIL REPORT OF PROJECT:
The meaning of Profit organization
A business or alternative organization whose primary goal is creating cash (a profit), as against a nonprofit organization that focuses a goal like serving to the community and is bothered with cash solely the maximum amount as necessary to stay the organization in operation. Most corporations thought-about to be businesses are for-profit organizations; this includes something from retail stores to restaurants to insurance corporations to assets corporations.
For-profit organizations look to come up with financial gain for his or her owners. Some conjointly ask for to come up with financial gain for his or her workers. These sorts of organizations live their success consistent with their salesFor-profit organizations may be either private or public firms. A public company may be a for-profit organization whose shares members of the general public can purchase on a stock market.
A private company is additionally a for-profit organization (in most cases). Members of the general public and different entities, however, cannot purchase and sell their shares freely. The purchase and sale of private company shares happen in private.
The meaning of Non-profit organization
Non-profit organizations are varieties of organizations that don't earn profits for their owners. All of the money earned by or given to a non-profit organization is employed in following the organization's objectives and keeping it running. Typically, organizations within the non-profit sector are nontaxable charities or alternative varieties of public service organizations, and in and of itself, they're not needed to pay most taxes. In an exceedingly non-profit organization, financial gain is distributed to the group's members, directors, or officers. There also are non-profit firms called non-stock firms.
They are shaped for a few idealistic functions and supply service to its members and also the public generally. Their aim is also academic, religious, charitable, or financial aid of the individuals at large. They're operating in an exceeding style of forms starting from little to massive. In little forms, they're operating within the form of resident welfare associations (RWAs), charitable dispensaries, spiritual societies, etc.
However, in massive forms, they're operating within the form of hospitals, schools, faculties and bar councils, etc. the most sources of their financial gain are subscriptions, donations, financial gain from the investment, and grants-in-aid from any governmental agencies. The funds raised by these organizations are attributable to capital fund or general fund, the balance of which fits on accumulated because of capital receipts year after year.
The unique features of a Profit organization
Crystal clear objectives:
High-profit businesses apprehend what's vital. They need clear goals and have created the trade-offs needed to pursue them. They've determined what they're not getting to do the maximum amount as what they're getting to do.
Play to their strengths:
The essence of strategy. They augment their capabilities; however, they never try and go wherever they can't contend effectively.
Clear accountabilities:
High-profit organizations don't have individuals tripping up over themselves. Every individual is aware of what results they're answerable for.
Hold their managers to account:
They don't simply arrange, however additionally manage performance effectively and deal up-front with poor activity groups and people.
Get near to their customers:
Beginning with the leadership team, they devote serious time to a meeting, observant, and talking with their customers.
Outsource non-critical activities:
They don't try and do everything; however, they concentrate on what drives their competitive advantage and source alternative activities.
Focus on cross-business relationships:
They apprehend that your ability to induce something done is directly proportional to the scale and quality of your relationships together with your colleagues and stakeholders.
The unique features of Non-profit organization
Major Aim is Service:
The primary aim of non-profit organizations is to serve society. They're operating for the advantage of society as a full.
Profit isn't the Criterion:
Non-profit organizations are fashioned for a few idealistic functions like spiritual, charitable, or providing education, etc. Earning profits will never be their aim.
Surplus not Distributed among its Members:
Unlike alternative business, surplus or deficit of non-profit organizations isn't distributed among its members. They're adjusted within the capital fund of such organizations.
Separate Entity:
The separate entity thought is befitting to non-profit organizations. Such organizations are treated as a separate entity unmistakably from its associates.
Unique Names Connoting their Working:
The names of non-profit organizations denote the character and elegance of their functioning.
Management by elective Persons:
These organizations are run and managed by elective members.
Major Funds from Contributions and Donations:
usually, non-profit organizations aren't independent to run their activities with the revenue generated from their sources, so that they rely on the subscriptions, donations, and grants received from numerous government departments.
The key difference between the Profit and Non-profit organization
The variations between profit and non-profit organization are drawn clearly on the subsequent grounds:
A profit organization is outlined as a legal organization that is operated with the only real aim of earning take advantage of the business activities. On the flip aspect, a non-profit organization is one that's operated with the first objective of benefiting society as an entire.
A profit organization, as its name suggests, works for profit maximation of the priority. As against this, a non-profit organization works for providing service for the well-being of society.
A profit organization is often a sole proprietary, partnership, or a body company, i.e., company. In contrast, a non-profit organization is an association of person, which might be a club, trust, public hospitals, cooperative society, etc.
The management of a profit organization is unmarked by a sole owner within the case of sole proprietary, partners just in case} of partnership and administrators in case of a company. On the contrary, there's the board of administrators, trustees, committees, or governing bodies who take care of the management of a non-profit organization.
The major supply of financial gain, for a profit organization, is from the sale of products and services. Conversely, the non-profit organization, derive a substantial a part of their financial gain from the donation, subscription, membership fee, charity so on.
When it involves the commencement of the entity, an enormous quantity within the sort of capital is brought in by the owners to run the business. Unlike, the non-profit organization, raise funds for commencement, within the sort of contribution through donation, grant, legacies, subscription, etc.
The finances of a profit organization include the earnings report, record, and income statement. In distinction, the non-profit organization prepares receipt & payment a/c, financial gain & expenditure a/c and record ready at the end of the accounting year to understand their monetary position.
Money attained over and higher than by the profit organization, i.e., profit, is transferred to the capital account. On the opposite hand, the surplus of financial gain over expenses ends up in the excess that is transferred to the capital fund.
ANALYSIS OF DATA:
As their names indicate, non-profit-making and for-profit businesses vary greatly in some aspects of their operation and most positively within the overall purpose of their existence. as the Houston Chronicle's James green writes, "While for-profit organizations aim to maximize profits and forward these profits to the company's owners and shareholders, non-profit-making organizations aim to supply society's wants." Non-profit organizations don't have any homeowners. Rather than maximizing profits, which suggests maximizing revenues whereas minimizing prices, they're a lot of involved with making certain the revenue is bigger than prices. This ensures that the non-profit-making will still offer society's wants. Another key component that produces a non-profit-making organization completely different than a for-profit is that the company's financial gain is rarely to be distributed to many homeowners however is to be recycled into the non-profit-making corporation's public profit mission and activities.
Besides these basic variations in organization and purpose, there are many a lot of technical areas price mentioning once discussing the variations between nonprofits and their for-profit counterparts. Whereas for-profit organizations are to blame for paying taxes supported their net profit, non-profit-making organizations are exempt from paying taxes. Since a nonprofit's goal is to form the planet a far better place and invest time, resources, and funds into the community, the govt credits nonprofits with edges during this method. Whereas nonprofits aren't needed to pay taxes on net profit, they're liable for state and property taxes.
CONCLUSION:
To conclude my findings,
For-profit and not-for-profit organizations share several qualities; however, they even have some distinct variations. At face price, the term "for-profit" suggests a corporation seeking to create cash and typically the maximum amount as possible. In contrast, the term "not-for-profit" suggests a corporation that does not create cash. Not-For-Profit organizations ask for the generation of revenues to serve a particular organization mission, transferring plenty of the profit to outlined community efforts.
There are many varieties of nonprofits starting from your native bank to the Chamber of Commerce in your town. Some non-profits rely on membership fees and sales of specific services or products. The standard charitable non-profit-making depends totally on donations, grants, and mission-related attained financial gain to fund its socially-oriented activities. They're perpetually public organizations and might be incorporated or exist as unorganized non-profit-making associations. The workforces of nonprofits and for-profit organizations additionally look completely different.
DISCUSSION:
The discussion has revealed:
For-Profit and non-profit-making organizations are run on different values and motives. Though profit organizations keep the profit for his or her profit, For-profit vs. non-profit-making organizations serves plenty of individuals through their merchandise and services. And at a similar time, though non-profit-making organizations are created to serve the society, For-Profit vs. non-profit-making organizations that pay a remuneration to the chairman of the trust.
SUGGESTION:
There are a few opinions and suggestions by family and friends whom I discussed my project findings with; they are given below:
The myth that non-profit org doesn't earn well should be cleared from the public's mind.
There should be more helpful towards the nonprofit organization by the government as well as the community.
There should be an alliance between profit and non-profit organizations.
There should be a strict supervision of government on this non-profit org as some are just fraud.
ACKNOWLEDGMENT:
My profound gratitude to all the faculty members of the Department, for their timely assistance and encouragement throughout my research work.
I duly acknowledge the encouragement and support from the research scholars in the department, and all my colleagues and friends.
It gives me immense pleasure to take the opportunity to all the people who are directly or indirectly involved in the completion of my project based on
With deep reverence, I offer my deepest gratitude _____, without whom this project could not have been fulfilled.
Lastly, I thank Almighty, my parents, family members, friends, and teachers for their constant encouragement and support, without which this project would not be possible.
Name of School/College
BIBLIOGRAPHY / REFERENCE:
https://en.wikipedia.org/wiki/Nonprofit_organization
https://en.wikipedia.org/wiki/For-profit_corporation
https://www.topmanagementdegrees.com/difference-between-nonprofit-for-profit-companies
https://www.wallstreetmojo.com/for-profit-vs-nonprofit-organizations/
In order to download the PDF, You must follow on Zomato. Once done, Click on Submit
Follow On Zomato
Subscribed? Click on Confirm
Download Study on Profit And Non-Profit Organization And Analysis of Adjustments in Final Accounts For Not for Profit Concern PDF