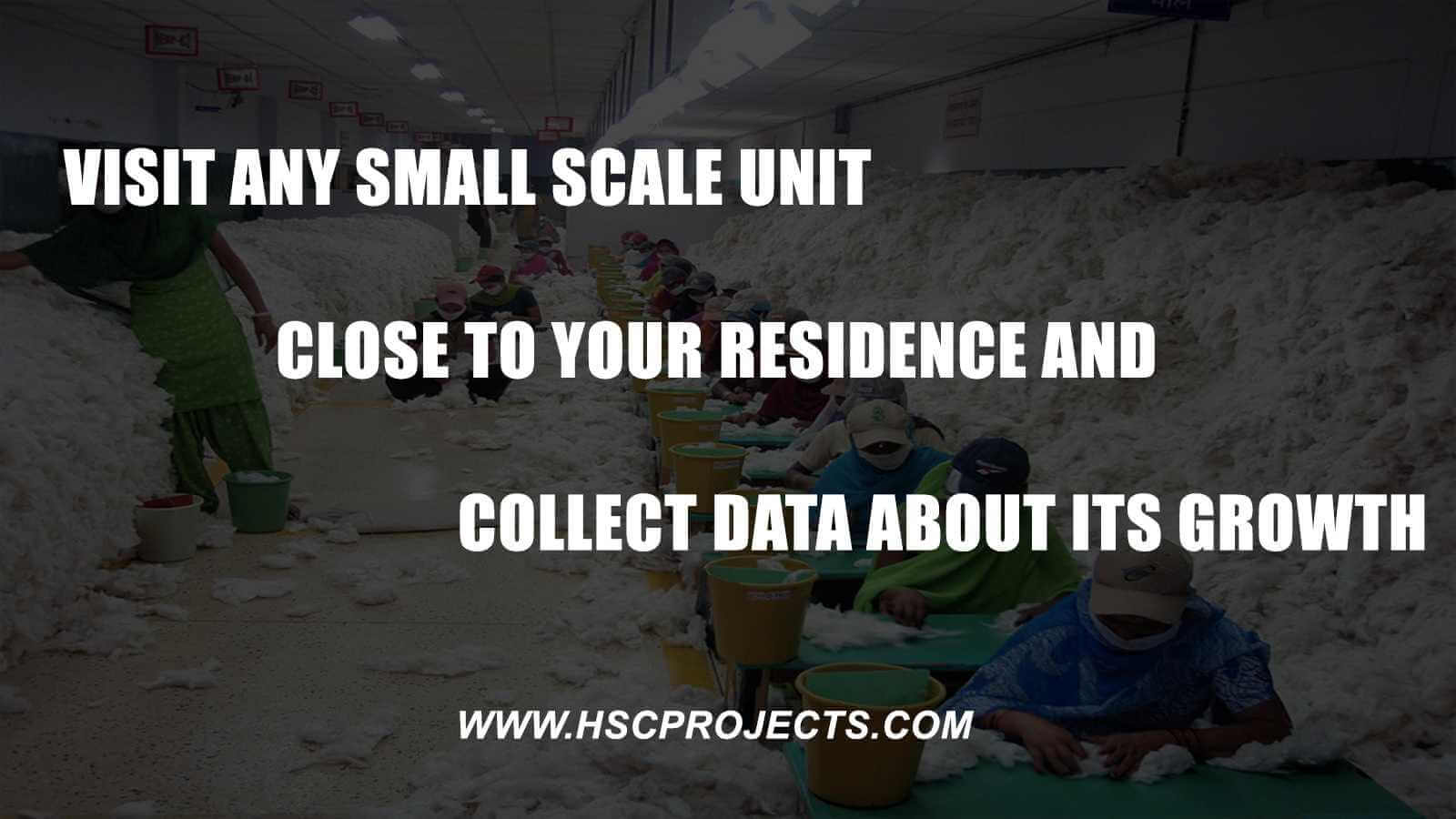 INTRODUCTION :
In the Indian economy, small-scale and house industries occupy a central place, as a result of their employment potential and their contribution to total industrial output and exports. Here we will Visit Any Small Scale Unit Close To Your Residence And Collect Data About Its Growth
The small-scale industries are the economic undertakings having a mounted investment in plant and machinery, whether held on a possession basis or lease basis or rent purchase basis not exceeding Rs. 1 corer.
There are various small-scale industries; the one that resides around our locality is the candle making industry.
Candle making business is one amongst those few enterprises that need little capital investments; nonetheless provides an honest return on investments, mainly if you'll be able to grab a market that lacks supply. Candles don't seem to be solely used for spiritual and illumination purposes; in recent times, candles are utilized in hotels, restaurants, and hospitals on an everyday basis, whereas they're sometimes used in homes also. Plus, aromatherapy candles are quite stylish lately when simply a sniff is enough to elevate one's mood! With such a large amount of boons and blessings, candle-making business is the next huge thing in your life.
AIMS AND OBJECTIVES :
This project aims to find out the growth of a small scale industry: home-made candles.
Mrs. Priya Rao owns the homemade candle business
Objectives:
To get information about how a small scale industry works
To get a detailed first-hand report from the owner about the growth in the business
To learn the basics of entrepreneurship
To understand the makings of candle
To understand the idea of small-scale business and entrepreneurship
METHOD AND METHODOLOGY :
The method used in this project to verify the growth of the small-scale industry like a cottage industry: home-made candles, is an interview with the owner. The interview will cover the whole journey of their business.
The following are the interview questions:
How did you start your business?
Who did you sell your first candles too?
What is the necessary process of candle making?
Is your husband supportive of your business?
How many workers are currently working under you, and where do you make candles?
How much was your investment when you started professionally?
How did you grow your business?
To what do you owe your success to?
What are the benefits of small-scale industries like yours?
What are your plans for the future growth of the company?
DETAIL REPORT OF PROJECT :
The interview is conducted with the owner of the homemade candle Mrs. Priya Rao. She gives the following answers.
How did you start your business?
I started my business in 2015. I started making candles in the festive season and selling them to close relatives and friends. I used to make candles all my life. It's my hobby.
As soon as I started selling my candles in festive seasons such as Diwali, I would get orders in bulk for spiritual functions as well. I was surprised by the orders I was getting without the festive season, which is when I decided to expand my business and make it more professional.
Who did you sell your first candles too?
My first candles were sold to my neighbors during the festival of Diwali. They were handmade candles used as Diya. My neighbors always appreciated my craft of making candles. In 2015 they placed the first order of 50 candles.
What is the necessary process of candle making?
To make a candle, you require these Materials. Another bonus of constructing your candles is that you simply can control what goes into them. If you are sensitive to fragrance, you'll be able to leave it out. If you are concerned regarding keeping the air in your home as clean as possible, you'll prefer to use soy wax. Though there are many alternative styles of candles, all of them contain three main components: wax, a wick, and a container. Adding Fragrance and color is optional, and lastly, you will need Pot to soften the wax.
The basic procedure of making a candle is:
Once you have got your station set up, you will need to seek out a wax that is applicable for the kind of candle you wish to create and a wick acceptable for the way you have chosen. Keep in mind that some wicks don't burn hot enough to melt some varieties of wax. You may also get to choose the correct mold or container to carry the molten wax, fragrance or color for the candle if desired, and a match to light the candle once it's done!
Then, you will need a heat supply sort of a hot plate or electric stove to soften the wax. Then you will need an old pot to soften the soy wax in. When shopping for wax, it's smarter and easier to shop for wax flakes. It melts quicker and more evenly. You will need to soften enough wax to suit the vessel you select.
Before you pour the wax, place your wick into a suitable vessel. We prefer to use an empty candle container that was previously used up—it's eco-friendly and budget-friendly!
Add your color and fragrance to the liquefied wax within the pot, if desired.
After melting the wax, rigorously pour the new wax into the container.
Use skewers to assist keep the wick in place. Let the wax cool fully then trim the candle right down to size.
This is the easiest and basic way of making a candle.
Is your husband supportive of your business?
Yes, my husband is very supportive of my craft and my business. He helps in the financial aspect of my business as I have very little knowledge about it. He encouraged me to grow the business. He helps me find potential clients for my business. He is very proud of me as a working woman as an entrepreneur.
How many workers are currently working under you, and where do you make candles?
Right now, there are around 20 women workers who are working for me in my factory. My factory is in my backyard. It has only two rooms. One is a machine room, and the second room is where we pack the finished products.
How much was your investment when you started professionally?
An initial investment of Rs 2 lakhs is needed for the setup of small-scale candle producing units. You would need a small area of 12×12 space at your residence and a single section of electricity power for one machine. Candle making machine is worth RS 50,000. The value of the machine depends upon production capability. This one is a semi-automatic machine that manufactures up to 350 candles in 15 minutes.
How did you grow your business?
A candle-making business is certainly a fun and gratifying approach of earning cash because it satiates the creativeness latent in you. However, to earn your living, folks need to understand my product, and this may be done in a range of ways.
Online selling
Social networking sites
PPC advertising in Google
Flyers and banners
As you'll see, there are plausible ways in which I can advertise and promote my product. This is how I planned to expand and grow my business. I also made some unique products to get the upper hand when it comes to competition. The best way to grow any business is to constantly make new products and advertise and reach as many people as possible.
To what do you owe your success to?
I owe my success to my hard work and support of my family. And I owe this to my mother, who taught me how to make my first candle.
What are the benefits of small-scale industries like yours?
There are many benefits of a small scale business like mine.
A few are
1. The potential for big employment
Demand for less capital
Evenhanded distribution
Use of domestic resources
Opportunities for entrepreneurship
Price efficiency
Reducing migration
Appropriate for non-standardized merchandise
Flexibility operating
Fast decisions
Ability to vary
Little market size
Customization
Chance for talent
Lesser industrial disputes
Personal contact with workers
Personal contact with customers
And many more benefits when it comes to small-scale business.
What are your plans for the future growth of the company?
My plan for the growth of my business is to advance machines and expanding my factory by employing more workers. Marketing is the key focus for the future growth of my business. I am planning to expand out to people all around the country by launching my website, where people can purchase my product online.
ANALYSIS OF DATA :
In India, Candle is wax with an ignitable wick. It provides light and is used for warmth or as a method of keeping time. Presently, candles are used as a home decoration item and accustomed to relieve stress and build a warm ambiance. Increasing client preferences for candles for aromatherapy to de-stress and relaxes and as home decoration is predicted to drive the candle market throughout the forecast period. Moreover, the availableness of varied kinds of candles on multiple distribution channels is projected to spice up their demand.
After a brief conversation with the owner, we get an insight into not only a small-scale business but also a wonderful journey of becoming an entrepreneur. The information given to us helps mark the skills of entrepreneurship and get an insight into candle making.
CONCLUSION :
To conclude, the interview with Mrs. Priya Rao, the owner of homemade candles, gave us a unique firsthand experience of a small-scale working business. We can assess our gathered information about this visit to her factory in a manner, so other students understand the importance and benefits of small-scale industries in India.
No business is a small business, as every business requires hard work and skills to be successful in this competitive world. Small-scale industries are booming in India currently. Everyone wants to have their own business. And now in this world, with so many opportunities at hand, it is possible actually to have our own business. The best example is my visit to Mrs. Priya's small house factory of candle making.
Lastly, I would like to conclude my findings through the interview I conducted as a successful insight into the mind of an entrepreneur of a small scale industry.
DISCUSSION :
The discussion about this project with my family, friends, peers, and teachers yielded more information about the small-scale industries around me. The discussion with my family revealed that our own business of shoes was started on a small scale. The discussion about my findings with my teachers leads to a wider prospect on the entrepreneurship of small-scale industries. My friends and peers were thrilled to know the information I gathered by interviewing the owner. They all had their own opinion and suggestion about my findings as well as the topic of small-scale industry and entrepreneurship
SUGGESTION:
The suggestions and opinions of my family, teachers, and friends are given below.
My family suggested that I should visit other small-scale industry and gather their experiences as well. And compare all my findings to attain knowledge about being a successful entrepreneur.
My teacher's opinions were about creating awareness about small scaled industries as these small-scale industries are never considered as important to society as the large-scale industries are. The government doesn't give them many opportunities or schemes as compared to large factories and industries.
My friends and peers suggested that I should make a list of factors that are common in between an entrepreneur of large-scale industry and small-scale industry and make another report on entrepreneurship skills.
ACKNOWLEDGMENT :
My profound gratitude to all the faculty members of the Department, for their timely assistance and encouragement throughout my research work.
I duly acknowledge the encouragement and support from the research scholars in the department, and all my colleagues and friends.
It gives me immense pleasure to take the opportunity to all the people who are directly or indirectly involved in the completion of my project based on Visit Any Small Scale Unit Close To Your Residence And Collects Data About Its Growth
With deep reverence, I offer my deepest gratitude _____, without whom this project could not have been fulfilled.
Lastly, I thank Almighty, my parents, family members, friends, and teachers for their constant encouragement and support, without which this project would not be possible.
Name of School/College
BIBLIOGRAPHY / REFERENCE :
http://newhorizonindia.edu/nhc_kasturinagar/wp-content/uploads/2017/10/Unit-2.pdf
http://www.yourarticlelibrary.com/industries/small-scale-industries-in-india-definition-characteristic-and-objectives/23464
https://www.thesprucecrafts.com/basic-candle-making-instructions-516753
https://www.expert-market.com/candle-making-business-plan-starting-candle-business-from-home/
https://www.quora.com/Is-candle-making-profitable-in-India
In order to download the PDF, You must follow on Zomato. Once done, Click on Submit
Follow On Zomato
Subscribed? Click on Confirm
Download Visit Any Small Scale Unit Close To Your Residence & collect Growth Data PDF