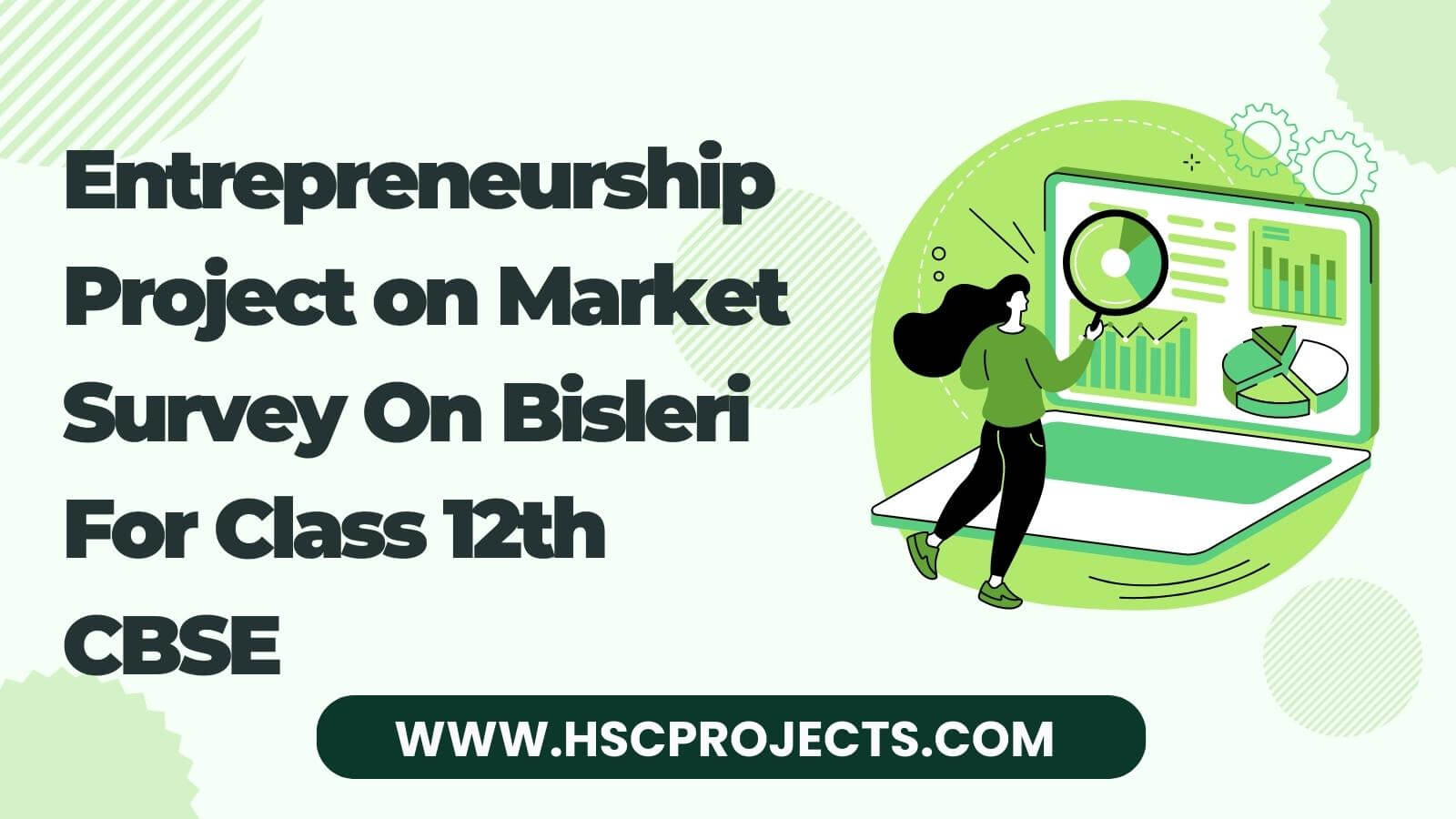 Acknowledgment
I want to sincerely thank everyone who helped this entrepreneurship project on market research in Bisleri be completed successfully.
First and foremost, I would want to thank my school for giving me the chance to conduct this poll and for the helpful advice and support I received from my teachers during this project.
I also want to express my gratitude to the Bisleri management team for agreeing to take part in this poll and giving me the details and perceptions I needed on how their company runs.
I also want to thank everyone who took the time to complete the survey and offer their well-considered comments. The project could not have been completed without their aid.
Finally, I'd like to express my gratitude to my family and friends for their unwavering support and motivation during this journey.
Again, I want to thank you all.
Market Survey
A particular research technique used to learn more about a market, industry, or product is market surveys. In this instance, we looked into Bisleri, one of the most well-known brands in India, and the bottled water business.
Understanding consumer preferences and impressions of Bisleri as well as identifying potential areas where Bisleri may strengthen its marketing and branding approach were the goals of our survey.
To reach a diverse range of respondents, we combined offline and online survey techniques. The survey questions were used to obtain information on a variety of Bisleri-related topics, including packaging, pricing, quality, and brand perception.
In order to get a variety of responses, 200 persons were chosen as the sample size for our survey based on their age, gender, and place of residence. In order to find trends and patterns in the responses, statistical tools were used to examine the survey data.
To sum up, the market research offered pertinent information on customer preferences and perceptions of Bisleri that the business can utilise to enhance its marketing and branding plan and stay one step ahead of its rivals in the marketplace.
Objectives Of Market Survey
Our Bisleri market analysis concentrated on the following primary goals:
To determine what elements lead consumers to favour Bisleri above other bottled water brands.
To learn what clients feel about Bisleri's availability, cost, worth, and packaging.
To pinpoint the areas where Bisleri's marketing and branding plan needs improvement.
To assess Bisleri brand loyalty and customer satisfaction.
To determine the markets where Bisleri has potential for expansion.
By attaining these goals, we hoped to give Bisleri expertise that would improve the company's market position and help it keep its competitive edge in the packaged drinking water sector. The survey results can be used by Bisleri to guide business decisions and develop marketing plans that take into account the shifting demands and preferences of the company's clients.
Executive Summary
The goal of the Bisleri market study was to learn more about consumer preferences and brand perception. A total of 200 participants from the study's sample size were surveyed using a mix of online and offline techniques. The survey questions were used to obtain information on a variety of Bisleri-related topics, including packaging, pricing, quality, and brand perception.
According to the survey's findings, Indian consumers have a strong recognition and memory for the bottled water brand Bisleri. Despite some respondents' reservations regarding the cost of the product, the vast majority of respondents said Bisleri was a high-end brand with attractive packaging.
The poll results also showed that consumers were most affected by the brand's reputation for quality and purity when choosing to buy Bisleri products. In order to meet the rising demand for its products, Bisleri had to expand its reach in a few marketplaces and geographical areas.
To reach a larger client base, it is advised that Bisleri concentrate on enhancing its pricing strategy and growing its distribution network. In order to strengthen its brand image and foster more customer loyalty, the business should also invest in efficient marketing campaigns that showcase the quality and purity of its products.
Overall, by utilising the data on consumer preferences and brand perception that the market research gives, Bisleri may utilise it to create marketing and branding strategies that are responsive to changing consumer demands and preferences.
Introduction
With a market share of more than 36%, Bisleri is one of the top brands of bottled drinking water in India. Since its founding in 1969, the business has gained widespread recognition across the nation.
Businesses must understand the demands and preferences of their customers if they want to compete in the fiercely competitive economic world of today. In this aspect, market research is essential since it teaches businesses about how consumers behave and view their goods and services.
To learn more about consumer attitudes and preferences towards its brand, the company performed a market study on Bisleri. A total of 200 participants from the study's sample size were surveyed using a mix of online and offline techniques.
The survey questions were used to obtain information on a variety of Bisleri-related topics, including packaging, pricing, quality, and brand perception. In order to find trends and patterns in the responses, statistical tools were used to examine the survey data.
The study's findings can assist Bisleri in creating successful marketing and branding strategies that take into account the target market's shifting demands and preferences. The poll results could be used by the company to make strategic decisions that will keep it one step ahead of its rivals.
Profile Of The Organization
With a 36% market share, Bisleri is the most widely used brand of packaged drinking water in India. Italian industrialist Signor Felice Bisleri, who also introduced bottled water to India, founded the company in 1969.
In more than 120 cities across India, Bisleri currently offers a broad range of products to a variety of consumer groups. Bisleri Mineral Water, Bisleri Fonzo, Bisleri Soda, Bisleri Limonata, and Bisleri Pop are among the company's offerings.
Customers of Bisleri are guaranteed the highest quality water, complete safety, and cleanliness. The business runs a cutting-edge production plant that complies with the strictest quality and security regulations. The business also makes use of cutting-edge tools and methods to guarantee the best possible quality for its goods.
Due to Bisleri's strong brand recognition in the Indian market, consumers are familiar with and can remember it. The business has received various honours and awards for its outstanding quality, creativity, and client support.
Overall, Bisleri is a powerful force in the Indian packaged drinking water market thanks to its well-known brand and dedication to offering its clients top-notch goods and services.
Competitor
In the Indian market for bottled drinking water, Bisleri faces severe competition from other well-known companies including Aquafina, Kinley, Himalayan, Bailey, and Kingfisher. These companies compete with Bisleri in a variety of markets, including price, packaging, distribution, and quality. They provide comparable goods and services.
As an illustration, PepsiCo is the proprietor of the bottled water brand Aquafina, which has a solid reputation and a dependable distribution system throughout India. Bisleri competes with Kinley, a well-known Coca-Cola brand of bottled water, on a number of fronts.
Himalayan, a premium natural mineral water brand from Tata Global Beverages, is promoted as a healthier and greener alternative to other packaged drinking water products. Parle Agro is the owner of the upscale brand Bailey, which sells a range of flavoured bottled water products.
The most well-known beer brand in India, Kingfisher, which is owned by United Breweries, has entered the market for packaged drinking water. On the basis of its distribution system and brand reputation, the company competes with Bisleri.
The bottled drinking water market in India is normally very competitive, with a number of long-standing rivals fighting for market dominance. Given the fierce competition from these businesses, Bisleri must constantly develop and enhance its goods and services to stay ahead of its rivals.
The following is an illustration of a possible questionnaire for the Bisleri market study:
How frequently do you enjoy Bisleri water from a bottle?
How do I purchase water in containers from Bisleri?
Which Bisleri package size is your favorite?
How would you rate Bisleri's bottle of water in terms of cost?
What do you think about the flavor and quality of the packaged water from Bisleri?
What do you think of the water packaging from Bisleri?
How frequently do you swap between Bisleri and other brands of bottled water?
What do you think about Bisleri's brand image?
Would you advise others to purchase the packaged water from Bisleri?
Do you have any recommendations for enhancing Bisleri bottled water's quality, presentation, cost, or other features? (Adaptable query)
Conclusion
According to a market analysis of Bisleri packaged drinking water, the company has a significant market share, but there is still room for growth in a number of areas. Although Bisleri's flavour and quality are generally appreciated by customers, the poll revealed that they also desired more reasonably priced options and packaging that was not destructive to the environment.
Consumers also favour a few other packaged drinking water brands, the report indicates. This competition might have an impact on Bisleri's demand. Bisleri should concentrate on addressing customer concerns about cost and packaging while continuing to offer a high-quality product in order to maintain and enhance its market position.
The results of the data analysis recommend that Bisleri pursue a more aggressive price strategy and look into new packaging sizes and materials, such as eco-friendly packaging. This would help the company appeal to more customers. Overall, the market study offers useful information that will enable Bisleri to decide on its product offerings and marketing tactics with confidence.
Cеrtificatе of Complеtion
I, [Studеnt's Full Namе], hеrеby cеrtify that I havе succеssfully complеtеd thе еntrеprеnеurship projеct on "Markеt Survеy on Bislеri" as part of thе CBSE Class 12 curriculum at School Namе. This projеct allowеd mе to gain valuablе insights into markеt rеsеarch and consumеr prеfеrеncеs, spеcifically in thе contеxt of thе popular brand Bislеri and thе bottlеd watеr industry.
Projеct Titlе: Markеt Survеy on Bislеri – An Entrеprеnеurship Projеct
Class: CBSE Class 12
Subjеct: Entrеprеnеurship
Acadеmic Yеar: [Yеar]
I am dееply gratеful to my school for providing mе with thе opportunity to conduct this markеt survеy, and I would likе to еxtеnd my hеartfеlt thanks to my tеachеrs for thеir guidancе and support throughout this projеct. Thеir еxpеrtisе and еncouragеmеnt havе bееn instrumеntal in shaping thе succеss of this еndеavor.
I am еspеcially thankful to thе managеmеnt tеam at Bislеri for participating in this survеy and providing mе with valuablе information and insights about thеir company. Thеir coopеration was crucial in obtaining accuratе and rеlеvant data for thе projеct.
I would also likе to еxprеss my gratitudе to all thе rеspondеnts who took thе timе to complеtе thе survеy and sharе thеir valuablе opinions. Thеir participation and thoughtful rеsponsеs wеrе еssеntial in making this markеt survеy comprеhеnsivе and informativе.
Lastly, I want to acknowlеdgе thе unwavеring support and motivation from my family and friеnds during this journеy. Thеir еncouragеmеnt kеpt mе focusеd and inspirеd throughout thе projеct.
Oncе again, I want to thank еvеryonе who contributеd to thе succеssful complеtion of this еntrеprеnеurship projеct. Your support and coopеration havе bееn invaluablе in making this projеct a mеaningful and еnriching lеarning еxpеriеncе for mе.
Signaturе: __________
Datе: __________
In order to download the PDF, You must follow on Zomato. Once done, Click on Submit
Follow On Zomato
Subscribed? Click on Confirm
Download Entrepreneurship Project On Market Survey On Bisleri Class 12th CBSE PDF