MARKETING
Marketing is the process of exchange of goods and services for money or something of value. It is a social process because it involves the interaction of people (buyer and seller) and focuses on the needs and wants of people. Thus, the modern concepts of marketing are based on all the following pillars –
Identification of customers.
Understanding the needs and wants of customers.
I am developing goods or services to satisfy customer needs.
I am doing all this at a profit.
MARKETING MIX
"Marketing mix is the set of tools that a firm used to pursue its marketing objectives in the target market "
It consists of the following
4 P's: –
Components of Marketing
Promotion
Place
Product
Price
PRODUCT
Product means goods or services or anything of the kind which is offered for sale. The concept of product restricts not only physical distribution but also their benefits. The decision in product mix includes deciding about features, quality, packaging, labeling, etc.
PRICE
Price is the monetary name of the product. The price mix refers to fixing price. It's important to fix it properly because it affects demand.
PLACE
Place mix refers to deciding distribution channels etc. It includes deciding no. And type of dealers and various decisions about the same.
PROMOTION
It includes activities that are meant to communicate availability, features, merits of the product to large consumers. A firm spends a substantial amount of money on promotion.
INTRODUCTION
Eyeliner is a cosmetic used to define the eyes. It is applied around the contours of the eye(s) to create a variety of aesthetic effects.
HISTORY
Eyeliner was first used in Ancient Egypt and Mesopotamia as a dark black line around the eyes. As early as 10,000 BC, Egyptians and more various cosmetics, including eyeliner, not only aesthetics but to protect the skin from the is the desert sun. Research has also speculated that eyeliner was worn to protect the wearer from the evil eye. The characteristic of having heavily lined eyes has been frequently depicted in ancient Egyptian art. They produced eyeliner with a variety of materials, including copper ore and antimony. Ancient Egyptian pole contained galena, which was imported from 31 nearby regions in the land of Pint, Western Asia.
More About "EYELINER" (Morden Usage)
In the late 20th and early 21st century, heavy eye line use has been associated with Gothic fashion and punk fashion. Eyeliner of varying degrees of thickness has also become associated with the emo subculture and various alternative lifestyles.
Eyeliner is commonly used in a daily make-up routine to define the eye or create the look of a wider or smaller eye. Eyeliner can be used as a tool to create various looks as well as highlighting different features of the eye. Eyeliner can be placed in various parts of the eye to create different looks with winged eyeliner or lightly lined at the waterline. It can be drawn above or below eyelashes, even on waterlines of eyes.
TYPES
There are five main types of eyeliner available:
LIQUID EYELINER is an opaque liquid that usually comes in a small bottle and is applied usually with a small brush with a sharp tip. It creates a sharp, precise line. Because liquid gives a much heavier appearance, it is often applied to the upper lash- line.
POWDER-BASED EYE PENCIL is an eyeliner in a wood pencil. It is generally available in dark matte shades.
WAX – BASED EYE PENCILS are softer pencils and contain waxes that ease application. They come in a wide variety of intense colors, as well as paler shades such as white (variety of white) or beige.
KOHL EYELINER is a soft powder available in dark matte shades. It is most often is used in black to outline the eyes. It comes in pencil, pressed powder, or loose powder form. It is more likely to smudge.
GEL EYELINER, which is a soft gel liner that can be easily applied with an eyeliner brush. It can be precisely applied and is much softer than Kohl.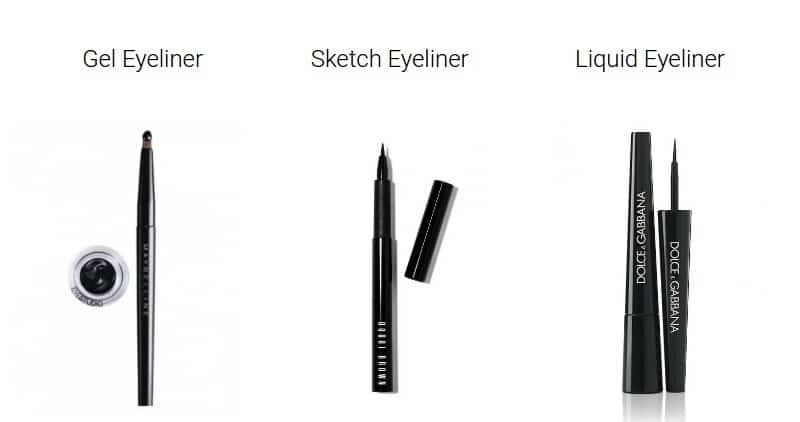 CHEMICAL COMPOSITION
Traditional wax-based eyeliners are made from about 20 components. About 50% by weight are waxes (e.g., Japan wax, fats, or related soft materials that easily glide on to the skin. Typical pigments include black iron oxides, as well as smaller amounts of titanium dioxide and Prussian blue.
WHY EYELINER?
Due to the rapidly growing market and utilization, the product has a great demand.
Scope for earning high profits:
There is a large scope for earning high profits because of improving living standards, a need for the quality product, and it's regular (daily basis) usage.
A new variety of eyeliners in terms of colors, quantity, types, etc. can be easily added due to high demand, and thus, there is a scope of expansion.
BRAND NAME
Noir Glamour
[French word for "Black"]
PRODUCT
Black Opera
GEL EYELINER
LIQUID EYELINER
PEN EYELINER
The Eye Decor
Smooth & Smudge-proof
Color
Black
The Eye Decor
Smooth & Smudge-proof
LOGO
TAGLINE
The Eye Decor
Smooth & Smudge-proof
USP
Intensively
Smooth & Smudge-proof
COMPETITIVE BRANDS
MAC Cosmetics, stylized as M.A.C, is a cosmetics manufacturer founded Toronto and now headquartered in New York City and part of the Estée Lauder Companies. The inspiration for the venture came from Frank Toskan's work as a photographer makeup artist in which he quickly realized the lack of suitable colors and textures needed to maximize performance and result of makeup for these industries.
Further, Toskan realized how limited conventional products in the cosmetics industry were to responding to the needs of modern women. For the first time, ethnicity in makeup was addressed. Toskan began to craft a niche market in the world of makeup.
Parent Company:
Estee Lauder Companies
CATEGORY:
Cosmetics
Sector:
Lifestyle and retail
TAGLINE/SLOGAN:
All Races, All sexes, All Ages
USP:
Wide variety of cosmetics and product range
Anon Products, Inc, known as Avon, is an American international manufacturer and direct selling company in beauty, household, and personal care categories. Avon had annual sales of $10.8 billion worldwide in 2013. It is the fifth-largest beauty company and, with 6.4 million representatives, is the second-largest direct selling enterprise in the Word (after Amway). Avon Products is a multi-level marketing company. The company's CEO is Sherilyn S. McCoy, who was appointed to the position in April 2012. The former CEO, Andrea Jung, became the executive chairman of the board. Recently, Avon has struggled with global sales falling.
Parent Company:
Avon Products
CATEGORY:
Personal Care Brands
Sector:
FMCG
TAGLINE/SLOGAN:
The company for women
USP:
The distribution network of Avon having less competitive from the common cosmetics.
Maybelline LLC, branded as Maybelline New York, is a major American makeup brand sold worldwide and a subsidiary of French cosmetics company L'Oréal. The Maybelline Company was created by a 19-year-old entrepreneur named Thomas Lyle Williams in 1915. Williams noticed his older sister Mabel applying a mixture of Vaseline and coal dust to her eyelashes to give them a darker, fuller look. He adapted it with a chemistry set and produced a product sold locally called lash-in- brow-line. Williams renamed his eye beautifier Maybelline, in honor of his sister. In 1917 the company produced Maybelline Cake Mascara, "the first modern eye cosmetic for everyday use."
PARENT COMPANY:
L'Oréal
CATEGORY:
Personal Care brands – Cosmetics
Sector:
FMCG
TAGLINE/SLOGAN:
Maybe she's born with it. Maybe its Maybelline
USP:
A large variety of products with competitive costs.
Lakme is an Indian cosmetics brand that is owned by Hindustan Uniliver and run by CEO Puskharaj Stena. Having Shraddha Kapoor at the brand ambassador, it ranked at no. 1 among cosmetics brands in India. Lakme started as a 100% subsidiary of Tata Oil Mills (Tomco). It was named after the French opera Lakmé, which itself is a French form of Lakshmi who is renowned for her beauty. It was started in 1952 famously because Prime Minister Jawaharlal Nehru was concerned that Indian women were spending precious foreign exchange on beauty products and personally requested JRD Tata to manufacture them in India.
PARENT COMPANY:
HIL
CATEGORY:
Personal Care – Cosmetics
Sector:
FMCG
TAGLINE/SLOGAN:
Beauty Sutra, Inspired
USP:
Lakme brings expert products and services that are borne out of true understanding needs of the Indian woman.
Oriflame Holding AG (Switzerland) (until mid-2015 "Oriflame Cosmetics S.A.," Luxembourg) is a company founded in 1967 in Sweden by brothers Jonas af Jochnick and Robert af Jochnick and publicly traded at NASDAQ OMX since 2004. The company sells personal care, accessories, and nutritional products online and direct. It is an international beauty company selling direct in more than 60 countries worldwide with its wide portfolio of Swedish, natural, innovative beauty products, which are marked through a sales force of approx. 3.6 million independent consultants who together create annual sales are exceeding some €1.5 billion.
PARENT COMPANY:
Oriflame Cosmetics
CATEGORY:
Personal Care Brands – Cosmetics
Sector:
FMCG
TAGLINE/SLOGAN:
Natural Swedish cosmetics
USP:
One of the best direct selling companies.
PACKAGING
It is the basic activity of every company. It can be defined as a set of activities concerned with designing and producing container/wrapper of the product.
LEVELS
PRIMARY (Immediate packing) – Customers can dispose of this off after consumption.
SECONDARY (Additional layer) – It can be kept till the product is ready to use
TRANSPORT (further packaging) – It's necessary for storage, transportation, and identifications.
TRANSPORTATION and WAREHOUSING
All possible means of transportation will be used to make my project product reachable for the target consumers, provided transportation techniques are cost-effective, and the product is taken care of. Direct as well as indirect channels of distribution will be used
Manufactures -> Customer (zero level)
Manufacturer -> Wholesaler -> Retailer → customers (Two-level)
Manufactures → Agent- Wholesaler-> Retailer-> Customer (Three Level)
Warehouse of the product will be: –
Located near the market
Have appropriate space
Clean and tidy.
properly Ventilated
SWOT ANALYSIS
STRENGTHS
These are the characteristics of the business that give it an advantage over others.
Our Strengths:
Strong marketing, advertising strategies.
Best offers for customers and social messages involved.
WEAKNESSES
These are the characteristics of the business that place business at a disadvantage relative to others.
Our Weaknesses:
Strong competitors
Newly introduced product, hence less publicized.
Substitutes available in a wide range.
OPPORTUNITIES
These are the elements in the environment that the business could exploit to its advantage.
Our Opportunities
Rapidly changing customer requirements
The requirement of a good quality eyeliner for daily use at a reasonable price and good quantity.
THREATS
These are the elements in the environment that could cause trouble for the business or project.
Our Threats:
Lone profit margin in eyeliners.
Aggressive promotions being used by competitors.
Entrance in a market where some similar brands already have a good market value.
LICENSING
The following licenses are required:
Coal mining license.
Pollution control license.
Manufacturing license.
Registration under the following is required: –
Central Excise Tax (CST)
State value Added Tax (VAT).
Registration of Patents and Trademarks.
GRADING
GRADING is the process of classification of products into different groups based on some important characteristics such as quality, size, etc.
Grading ensures that good belongs to a particular quality and helps in realizing higher prices for high quality.
My product has been graded into three categories: –
BLACK OPERA Gel eyeliner
BLACK OPERA Liquid eyeliner
The BLACK OPERA pen eyeliner
There have been graded based on the consistency, use, and quality of the eyeliner.
OFFERS
Gift Voucher worth Rs.100/- will be given to the first 10,000 customers of Noir Glamour, which will be redeemable within one month and on Noir Glamour products only.
5% discount on the purchase of our product will be given to the customers who bring the old, empty eyeliner body and return it.
60 off on purchase of Rs.1000 or above (only Noir Glamour products).
SOCIAL RESPONSIBILITY
The body of used eyeliner will be collected and recycled during the production of new eyeliners.
Every month a certain percentage of profit will be donated towards the poor sections of the society.
The dye of the eyeliner will contain natural color (black) from non-harmful sources.
CONCLUSION
From this marketing research, I have understood the importance of the marketing mix. I have learned to take the following necessary decisions regarding the 4 P's of marketing and following things too: –
Gathering and analyzing market information,
How to design a product,
Branding, packaging,
Pricing a product,
Marketing and promotion, etc.
ACKNOWLEDGMENT
I would like to express my sincere thanks to Mrs. Shweta, who guided throughout the project and also gave me valuable suggestions and guidance for completing the project. She helped me to understand the important details of the project.
My project has been a success only because of her guidelines.
NAME:
SOMYA JAIN
ROLL NO:
9153624
SIGNATURE
CERTIFICATE
This is to certify that SOMYA JAIN of class Xll of Gitaratlan Jindal Public School, Delhi, has completed his project file under the supervision of Mrs. Shweta Mandawara. She has taken proper care and shown the utmost sincerity in the completion of this Project. This is to certify that this project is made as per the guidelines and expectations of CBSE.
Mrs. Shweta Mandawara.